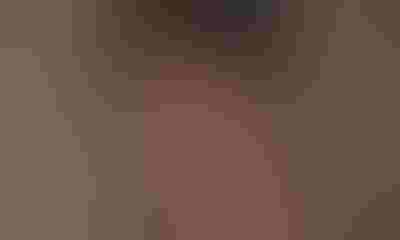 Cody Styck has many roles on his family's farm. Perhaps none of them is more important than fine-tuning how to fit cover crops into their operation.
Styck farms with his parents, Ron and Judy, and his grandfather, Percy, about 10 miles west of Rensselaer, Ind., near the Indiana and Illinois state line. He is so invested in cover crops that he persuaded his parents to grow some rye for seed so they would have rye seed to sow as a cover crop this fall.
Corn Illustrated 9/5: 4 possible causes of tip dieback in corn

Styck doesn't just plant cover crops and grow his own cereal rye for cover crop seed. He analyzed the benefits he believes his family achieves with cover crops, and he's eager to share them with others. Here are seven of many ways Styck believes cover crops benefit their farming operation.
1. Hold the soil in place. This was one of the original reasons why Styck became interested in cover crops after returning to the family farm in 2008. Preventing soil erosion is just one way cover crops benefit the soil.
2. Restore life to the soil. Organisms go to work when given a chance, and bring the soil back to life, Styck says. He has determined that various organisms attach to crop roots and help them in different ways.
3. Increase soil organic matter. Styck's goal is building back 1% of soil organic matter every five years. That adds 10 to 15 pounds of residual nitrogen to the soil, plus the ability to store a much larger amount of water than before.
4. Provide more residue for the soil. Cover crops add residue that contributes to crop residue left on the surface through no-tilling. Styck says creating and leaving more plant residue is important to improving the soil by helping rebuild soil structure.
5. Provide ease of operation. Styck is convinced a no-till and cover crop system allows him to use less fuel to raise a crop. He also believes cover crops contribute to other intangible benefits that make it easier to plant and grow a crop.
6. Control soil temperature in summer. You've likely heard that extra residue provided by no-till and cover crops is a negative when it comes to soil temperature issues. Many believe residue keeps the soil cooler in the spring when it's time to plant. Styck says there is another side to the temperature issue, though. "Having residue on the surface helps maintain a more desirable temperature when the sun is beating down, especially early in the growing season before the rows have canopied over. The ground stays cooler instead of becoming very hot," he explains.
Corn Illustrated 8/29: Will you see ear rots in corn this year?
7. Aid weed control. Many people say this. Styck firmly believes it. He is convinced that having a good cover crop stand in the spring helps minimize weed problems. It's a benefit that must be factored in when weighing the merit of cover crops, he says.
About the Author(s)
Subscribe to receive top agriculture news
Be informed daily with these free e-newsletters
You May Also Like
---