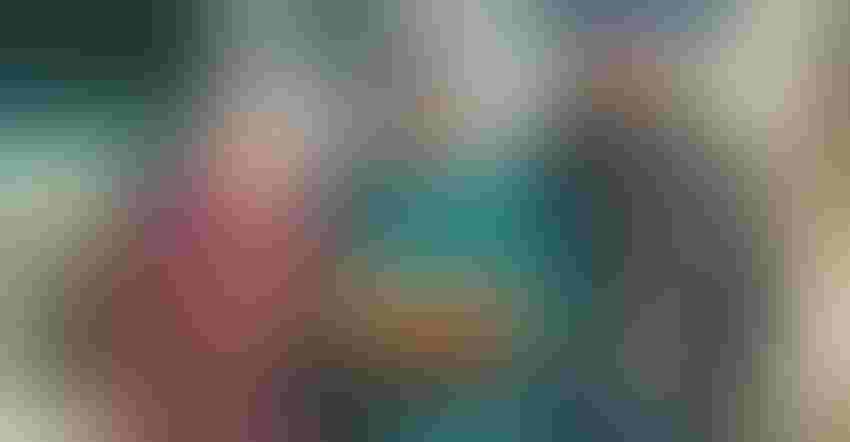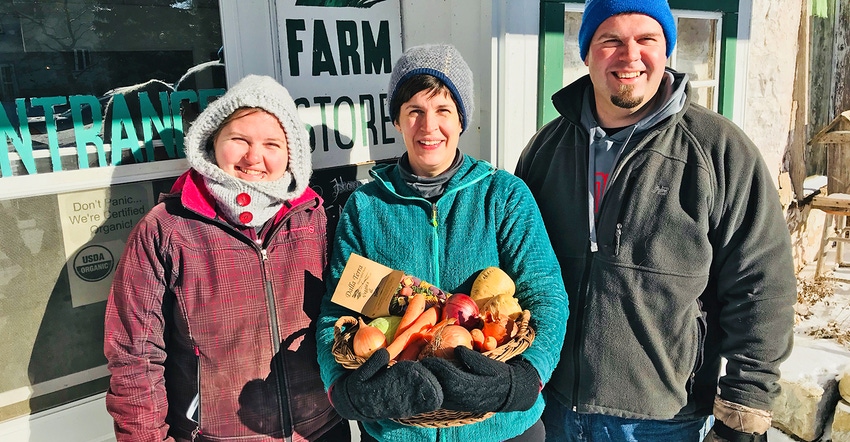 WINTER VEGGIES: Becky Schnicke (left), Robyn Calvey and Jeff Faust show some of the cold-storage produce still available at Park Ridge Organics in Fond du Lac, Wis.
Two dissimilar food producers have found a complementary business relationship that adds to both their profits. A young man buys raw vegetables and incorporates them into the pasta and ravioli he makes and sells. A young woman grows the vegetables used in the pasta. Both operate flourishing enterprises begun by their parents while taking those enterprises to the next level and developing a business arrangement that started several years ago when they met at the farmers market in Appleton, Wis.
Robyn Calvey owns Park Ridge Organics near Fond du Lac, Wis., where she grows 40 different vegetables, from arugula to zucchini, on 7 acres.
"We use every square foot," she says. She offers Community Supported Agriculture (CSA) shares, has a farm store, sells at the Downtown Appleton Farm Market, and produces for restaurants and grocers.
Patrick Connolly operates Dalla Terra (Italian for "from the land") Pasta in Appleton, handcrafting the mix for noodles and ravioli and selling mainly at farmers and holiday markets. In 2009, his mother, Cynthia, was looking for something to do and networked with Colorado friends who make pasta.
"Mom said, 'I can do the same,' " Connolly says. "She went to farmers markets and decided this could work." Connolly quit his job, went to college and has been processing ever since. His mom owns the business and bought the pasta cutters, but Connolly is now taking over.

PASTA MAKER: Patrick Connolly of Dalla Terra Pasta in Appleton handcrafts noodles and ravioli.
Dalla Terra Pasta has a production facility a few miles from the Connolly home, but it's a family business with no employees other than Connolly and his parents.
"I make, distribute and sell at farmers markets," he says. He also fills orders at a few Appleton-area stores. "I'm looking to do bigger shows — three to four days or longer — to promote, network and sell our product."
In early December, Dalla Terra Pasta had a space at the Osthoff Resort holiday market, a 10-day international Christmas craft show at Elkhart Lake, Wis.
Joining forces
Connolly buys vegetables from Park Ridge Organics and a few other outlets in the area, using spinach, beets and basil. His labels note that the ingredients come from Park Ridge Organics. Calvey, in turn, offers pasta shares for Dalla Terra.
She plants and raises her vegetables in carefully rotated fields on a former horse farm she bought from her parents, Dan and Linda, a few years ago. She learned about CSAs while living in Milwaukee and returned home to convince her dad to help her start one. Like Connolly's mom, Calvey's dad was looking for something to do.
With her own background in forestry, a gardening background from her dad and business knowledge from her mom, Calvey says she "learned along the way." She has two management employees, Becky Schnicke and Jeff Faust, and hires five full-time and one or two part-time seasonal workers. She also uses the labor of 15 worker shares — people who work at the farm in exchange for their produce.
Calvey says 80% of her produce is sold as shares, this year to an anticipated 350 share members, and 98% of the produce is grown on her farm. "The other 2% [all grown in the area] is because they are better at growing these crops on their soil types."
Calvey is excited because this year Park Ridge Organics is moving to a completely customized share program. "We're seeing over the years the CSA model is struggling to maintain members," she says. "People often feel they are getting too much food. Customers are feeling they're wasting [unwanted items], and that means it's a waste of our field space." So she's turning to a "very sophisticated" computer system that allows CSA members, who begin buying in November, to order their preferences, and Calvey can plan her crops accordingly.
"They still get value, but it's more of what they like," she says. So if they don't like beets, for instance, they won't get beets.
Some of those decisions are being made now as she places seed orders. She also gives presentations and hosts tours, a farm dinner, and a fall harvest festival and soup contest. A list of the 40 different crops she raises is on her website, parkridgeorganics.com.
Growing businesses
"I would like more members," Calvey says. With her new ability to customize orders, she hopes more people will be interested, and she's thinking about moving into processing in the future.
Park Ridge has 11 drop sites for produce around Lake Winnebago and at Elkhart Lake. Calvey and her managers were still filling boxes with cold-storage produce as the calendar neared Christmas.
Calvey also gets help from her parents, who fill in as baby sitters from time to time for her and partner Bradley Ryan's nearly year-old daughter, Frances.
Because Park Ridge Organics grows produce on a certified organic farm, Dalla Terra Pasta offers organic products. Connolly says he has no exact recipes for his pasta.
"I look for the right color and consistency and flavor," he says, acknowledging "a personal touch, but consistent." He says he's focusing on wholesale accounts and farm markets, but will sell to individuals who knock on his door and through his website, dallaterrapasta.com.

FAMILY BUSINESS: Dalla Terra Pasta has a production facility a few miles from the Connolly home, but it's a family business with no employees other than Patrick Connolly and his parents.
He's thankful for the guidance and help from his parents. "They've been very gracious helping out," Connolly says.
He's been to Italy and is studying Italian. "I thought it would be fun to know," he says. "It complements the business" — just as Dalla Terra and Park Ridge complement each other. 
Buchholz lives in Fond du Lac, Wis.
Subscribe to receive top agriculture news
Be informed daily with these free e-newsletters
You May Also Like
---