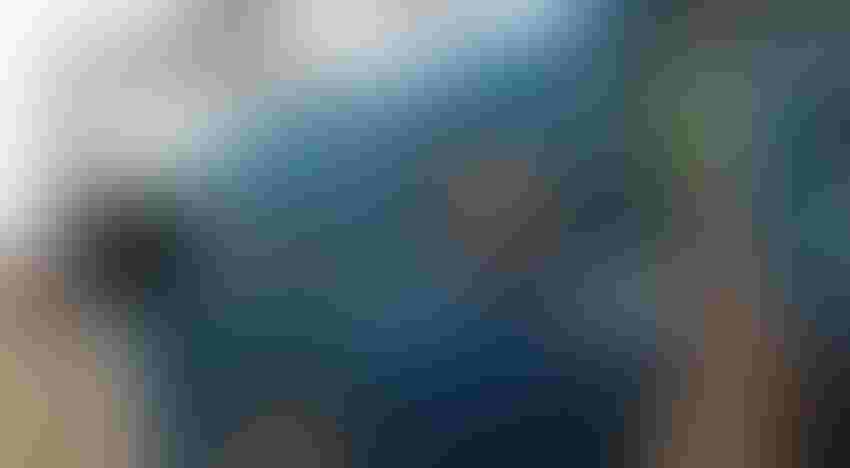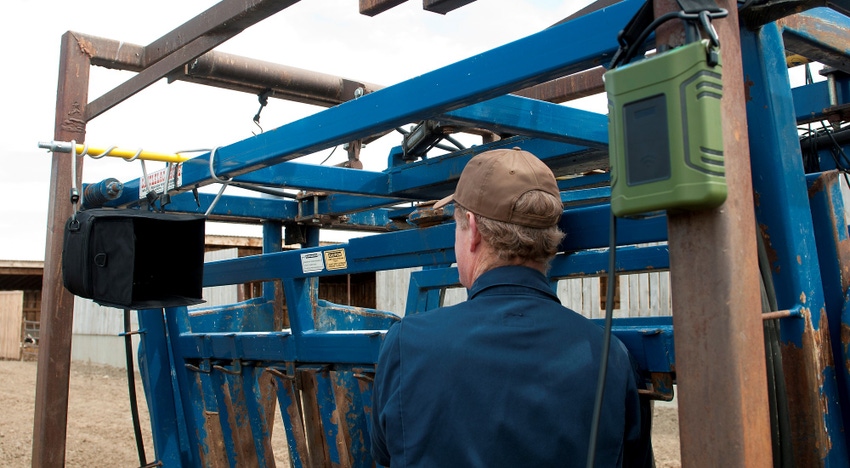 A cow is checked for pregnancy using an extension-arm technique.
ReproScan
Many beef producers have their cows pregnancy-tested after breeding season so they can sell the open ones.  Finding more than a few open cows may also signal a disease problem, so it's good to find this out sooner than later.
Methods for pregnancy-checking include rectal palpation (feeling the uterus through the rectal wall), ultrasound and blood tests.  Today, more veterinarians are using ultrasound rather than palpation, because it's easier and they can detect pregnancy earlier (as early as 28 days' gestation).  They can also determine the sex of the calf if a cow is checked in early pregnancy, and assess viability of the fetus.
There are two ways to do ultrasound—with the traditional arm-in rectal probe, or the newer extension-arm probe that eliminates the need for inserting an arm into every cow. The advantage to the extension-arm unit is that it's much easier on the person doing the pregnancy testing.  
Dr. Scott Davis has a practice in Prineville, Oregon (Hometown Animal Hospital) and does a lot of pregnancy checking for ranchers in his area—about 20,000 cows per year.  He also has a cattle herd health and ranch consulting business called Cattlyst PC.
He says most ranchers know how much it costs to run a cow for a year and don't want to feed expensive hay to cows that aren't going to have a calf next spring.  "Also a cow will depreciate in value, the older she gets.  Maybe she was worth $1500 as a bred heifer and only has a $500 salvage value when you cull her.  A cow typically depreciates more than $100 per year.  When considering the expense of running a cow, there's feed, pasture, irrigation costs, vaccine, vet costs, depreciation on the cow, etc.  I estimate it costs at least $500 to run a cow for a year," he said.
"On average, a person might have about 5% of the herd open in the fall," he said.  "If you have 100 cows and 5 open ones, it would cost you about $2500 to run those 5 cows for that year.  It will cost roughly $5 per head to have them preg-tested by a veterinarian coming to your place.  So it would cost $500 to preg-test the herd, but $2500 to run those open cows, so essentially you are $2000 ahead if you can sell those cows before you have to feed them through the winter."
Some veterinarians are teaching clients to preg-test their own cows.  "Unless you have a lot of cows, or live in an area where veterinary services are not readily available, most people prefer to have the veterinarian do it.  I teach classes in ultrasound technology for pregnancy diagnosis, but teach more veterinarians than producers," he said.
Producers can learn how to do this, but if they make even one mistake in 200 head, it pays to have the veterinarian do it.  "Accuracy is worth a lot, when you figure the difference between a bred cow and an open cow.  The bred cow may be worth $1200 and the open cow worth $500.  That could be a costly mistake!" Davis said.
Veterinarian shortage
Some ranchers decide to learn how to do pregnancy checking themselves; many rural areas have a shortage of large-animal veterinarians today.  "This is a huge problem, and that's why we're teaching people how to preg cows.  I don't mind teaching ranchers; I taught some to palpate cows before we had ultrasound, and now I teach ultrasound, which is a lot easier for people to learn.  People looking for training can contact ReproScan; that company has a lot of classes for veterinarians and producers," he said.
"Accuracy—being able to tell how far along the pregnancy is—is much better with ultrasound.  This can be helpful if a person wants to sell the late-bred cows.  But to have that accuracy, you need to preg-check them prior to 4 months along.  After that, the uterus drops down below the pelvis and it's harder to visualize the pregnancy.  Also there's a big difference between a 60 day-fetus and a 70-day fetus, but the difference between a 4 month and 4.5 month fetus is really hard to tell," he explains.  As the cow gets farther along in gestation, accuracy in fetal aging diminishes, whether a person is doing it by hand or ultrasound. 
He did a project awhile back (after he'd had 25 years' experience palpating cows) comparing accuracy of each method.  "This was on a ranch that had 300 heifers.  In my comparison project I palpated each heifer to see if I could feel the embryo or fetus, and then used ultrasound, and we also drew a blood sample to send in for that test," he says.
These heifers were all within 30 to 95 days' gestation—three heat cycles in a 65-day breeding period.  The shortest gestation (timed from when the bulls were taken out) was 30 days.  "I didn't find any of those on ultrasound that I didn't find with palpation.  But with ultrasound I was able to determine viability.  I found a couple calves that by hand I thought were ok, but with ultrasound I could tell that the cow was going to lose that calf."  A person can detect a few more problems, with ultrasound.
The blood test didn't do as well overall because it gave some false positives and some "maybes".  "In early pregnancy, diagnosis with a blood test isn't always accurate because if a cow has already lost that calf, she may still have the S protein in her blood, and the test will say she's pregnant, giving you a false positive.  Blood test results take several days so you also have to sort cattle a second time," said Davis.
"If producers want to check their own cows and veterinarians are not available, I think they are better off to learn how to ultrasound their cows than to utilize a blood test," he said.   The exception might be a producer with just a few cows, who lives a long way from a veterinary service and doesn't have enough cows to justify taking time to learn to ultrasound.  Also a person needs enough cows to become proficient (with practice) at doing ultrasound.  If you only have 20 cows you may never have enough practice, and might decide to do the blood test.
Ultrasound and palpation
You glean more information from ultrasound or palpation, however.  The blood test only tells whether a cow is pregnant or open, whereas you can determine the stage of pregnancy (early or late calver) using ultrasound or palpation, and sometimes even the sex of the calf with ultrasound.  And most people want to know immediately (and not a week later when test results come back) so they can sort off open cows to sell now.
"Ultrasound is accurate for most people, and young veterinarians today can do well with it even when they don't have much experience palpating.  I've had several young veterinarians working for me and I'm much more comfortable sending them out with an ultrasound machine than sending them out to preg-check by hand," said Davis.  The learning process is shorter with ultrasound.
"I've taught a lot of people to preg check and some just can't ever seem to get it right with palpation, and people with short arms can't reach late gestation pregnancies. Ultrasound takes the variables out, because you have the long extension arm, and you don't have to put your arm in there.  Years ago I thought there wasn't much advantage (before the extension-arm models like ReproScan) because if I had to stick my arm in there anyway I might as well just palpate."  When the extension-arm ultrasound came along it made preg-checking easier—and easier on the veterinarian's arm and shoulder.  At some ranches, Davis preg-checks several hundred cows a day and can do it in half the time, using ultrasound, with less wear and tear on his arm.
"Doing 160 to 170 cows an hour with ultrasound is common, and with heifers I've often done more than 200 an hour—using hydraulic chutes and ultrasound.  This really speeds it up.  No one can palpate them that fast, especially if you are trying to determine the age of the fetus."
Subscribe to receive top agriculture news
Be informed daily with these free e-newsletters
You May Also Like
---