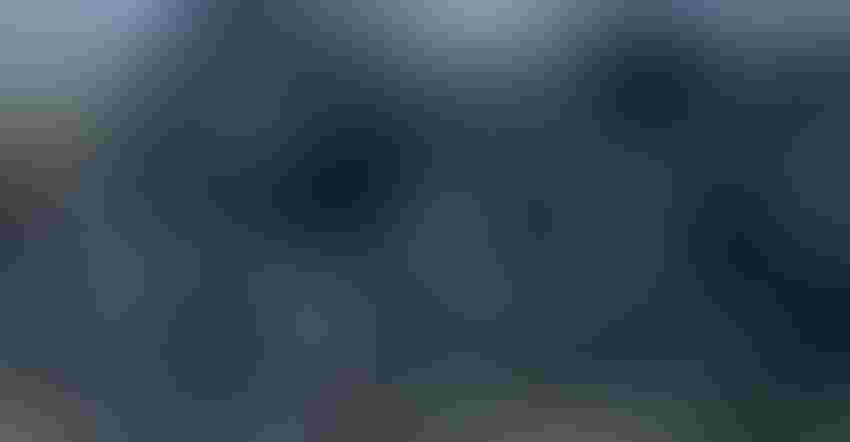 OLD TIRES: Old tires sitting outside retain rainwater and are breeding grounds for mosquitos, leading to the spread of diseases such as the West Nile virus and eastern equine encephalitis.
Andrew Holt/Getty Images
Michigan Farm Bureau is hoping a survey of farmers about recyclable ag tires will help it identify recycling solutions.
Old tires sitting outside retain rainwater and are breeding grounds for mosquitos, leading to the spread of diseases such as the West Nile virus and eastern equine encephalitis.
Farmers can respond to the survey at forms.office.com until Oct. 15.
The survey asks: How many tires do you have? What size are the tires? How far would you be willing to travel to recycle those tires? How much would you be willing to pay per tire to do that?'
To learn more about the survey or if there are questions, email [email protected].
Pest management guide available
The newly completed Michigan State/Ohio State Field Crops Insect Pest Management Guide is available for online use and download at aginsects.osu.edu.
This publication contains a series of chapters with information on biology, damage, management recommendations and insecticides related to insect pests in field crops in Michigan and Ohio. Chapters cover field corn, soybean, wheat and other small grains, alfalfa and grass forage, and (for Michigan growers) dry beans and sugarbeets. Each chapter stands alone, focusing on a particular crop.
In the preparation of this guide, state databases were checked and labels consulted for each of the pesticides listed in the crop chapters. Every effort was made to include correct information and to list most of the commonly used products for Michigan and Ohio. However, labels do change over time. Always read the labels of the products you use to reconfirm key pieces of information prior to spraying. 
Biobased products industry pumps $3.5 billion into economy
A recent report from USDA shined a spotlight on the positive economic impact of innovative, biobased products in Michigan and across America. Biobased products include those manufactured with agricultural products, including Michigan-grown soybeans. "
From auto components, to cleaning supplies, to construction materials and beyond, Michigan-grown soybeans are used in thousands of products Americans use every day — providing renewable options for consumers and helping to bolster our state's economy," says Janna Fritz, CEO of the Michigan Soybean Committee.
The report noted Michigan is in the top 10 states in direct value added to the biobased chemicals sector (ninth), and direct value added in the biobased plastic bottles and packaging sector (sixth). According to the report, the biobased products industry:
Supports 4.6 million American jobs — including nearly 50,000 Michigan jobs — through direct, indirect and induced contributions.

Contributes $470 billion to the U.S. economy, including more than $3.5 billion to Michigan's economy

Generates 2.79 jobs in other sectors of the economy for every biobased job.

Displaces more than 9 million barrels of oil a year.

Potentially reduces greenhouse gas emissions by an estimated 12.7 million metric tons of carbon dioxide equivalents per year.
Scholarships available to students pursuing careers in poultry industry
Michigan Allied Poultry Industry's third annual fall scholarship program is aimed at encouraging college students to pursue careers in the poultry industry and supporting their education. The organization is now accepting applications for the $1,500 scholarship through Oct. 15.
Scholarship applicants must be an undergraduate or graduate student actively pursuing a career in a poultry-related field or a business with a focus on the poultry industry; be attending an accredited school; be enrolled in a minimum of 12 credits each semester during the school year in which the scholarship is awarded; maintain a grade point average of 3.0 or better; complete an internship at a Michigan poultry farm or agribusiness in the summer months previous to receiving the scholarship; and submit the application as well as a short essay on internship experience and one letter of recommendation.
The scholarship application link is online at mipoultry.com/scholarships.
Grants available to advance craft beverage industry
The Michigan Craft Beverage Council is now accepting 2022 research grant proposals with a maximum grant award of $40,000. Deadline for proposals is 3 p.m. Oct. 25.
While any research topic will be accepted, the council has identified the following funding priorities: climate change impacts affecting Michigan's craft beverage agricultural supply chain,; crop quality analysis; new varieties for hops, fruit, barley, grain, or other agricultural inputs used in craft beverage production; and sustainable wastewater discharge best practices. A full list of the MCBC's research priorities and evaluation criteria are available online.
All proposals will be reviewed by a Joint Evaluation Committee in December, with funding decisions expected in January.
Proposals must be received via email at [email protected]. Click here to view the application and grant guidelines.
Citizens LLC receives Ag Exporter of the Year Award
Charlotte-based Citizens LLC is the 2021 Michigan Agriculture Exporter of the Year, awarded by the Michigan Department of Agriculture and Rural Development.
The company produces food-grade Natto soybeans and grows 99% of its products in Michigan.
Founded in 1996, Citizens LLC began exporting in 2005. Between 2019 and 2020, the company experienced a more than 4,000% growth in export volume with exports accounting for 13 jobs of the company's nearly 50 total employees.
MDARD seeks nominations for Exporter of the Year Award
The Michigan Department of Agriculture and Rural Development is seeking applications for its Michigan Agriculture Exporter of the Year, which recognizes export growth, innovation and the pursuit of new export markets.
Michigan food and agriculture producers, manufacturers or shippers of good reputation and good standing in the business community, who are aggressively pursuing international markets and increasing export sales, are encouraged to apply.
Products must be over 50% grown, processed or manufactured in Michigan.
Michigan cropland and cash rent values rise
USDA's National Agricultural Statistics Service has updated overall farm real estate values, with U.S. cropland posting a 7% increase in 2021, the largest increase since 2012.  This includes the value of all land and buildings on farms. 
Michigan farm real estate value increased 7.1%, going from $4,950 per acre in 2020 to $5,300 in 2021.  Michigan cropland value rose 4.9% to $4,900 per acre. USDA cash rents for Michigan averaged $138 per acre in 2021, a 7.8% increase from 2020. 
Grants available to address issues in childhood agricultural health
The National Children's Center for Rural and Agricultural Health and Safety is accepting proposals for grants up to $25,000 to support small-scale projects and pilot studies that address emerging issues related to the impact of COVID-19, or other emerging issues related to the prevention of childhood agricultural disease and injury.
Applicants may request up to $25,000 for research studies and up to $15,000 for non-research projects. The deadline for letters of intent is Oct. 1. The application deadline is Nov. 1.
The call-for-proposals focuses on documenting, intervening, and otherwise exploring emerging health and safety issues among children in and around agricultural settings.
Proposals should include:
impact on special or vulnerable populations

public or organizational policies that safeguard youth in agriculture

leverage of existing National Children's Center resources or networks
For information, visit marshfieldresearch.org, or call 1-800-662-6900.
Director of MSU AgBioResearch steps down
Doug Buhler will step down as director of MSU AgBioResearch to serve in a full-time position as Michigan State University assistant vice president for research and innovation. Buhler will remain as director until a successor is named through an internal search that will begin immediately.
He has served as MSU AgBioResearch director since 2013, and during his time he served as the administrative lead of a group of more than 350 researchers from seven MSU colleges — and a network of 14 research centers across the state with a total annual budget of more than $120 million.
Dairy farmers share milk's message with action sports athletes
This summer, the United Dairy Industry of Michigan team connected with nearly 500 skateboarders near Grand Rapid  to share the way milk helps skateboarders refuel.
Seeking new ways to relate to these dairy consumers, UDIM set up a Bones Love Milk pop-up skate shop with an on-site milkologist to concoct cool refueling beverages and offered fun giveaways while skate, bike and BMX tricks flipped at the park.
The Bones Love Milk program, started by the California Milk Processor Board and adapted by UDIM, is a partnership with snow and skateboarding organizations to help establish milk as the cool drink for shredders and is based on a simple idea: The sports you love require the body you have.
The UDIM team is working with the Michigan Girls Shred organization to provide Bones Love Milk skateboard and nutrition information to members.
Learn more at boneslovemilk.com. 
USDA models dairy assistance program after Michigan effort
USDA has established a $400 million Dairy Donation Program, modeled after donation made by the Michigan Milk Producers Association in conjunction with the Food Bank of Eastern Michigan in response to the Flint water crisis.
Under the program, eligible dairy organizations will partner with nonprofit food assistance organizations that distribute food to individuals and families in need. Those partnerships may apply for and receive reimbursements to cover some expenses related to eligible dairy product donations.
 "The benefits are twofold — it supplements other financial support for producers while providing nutritious dairy products to American families," says agriculture deputy secretary Jewel Bronaugh. "When there is surplus milk production, we encourage the milk to be donated instead of being dumped. Together, we can help someone in need, minimize food waste and support the U.S. dairy industry."
 
Subscribe to receive top agriculture news
Be informed daily with these free e-newsletters
You May Also Like
---