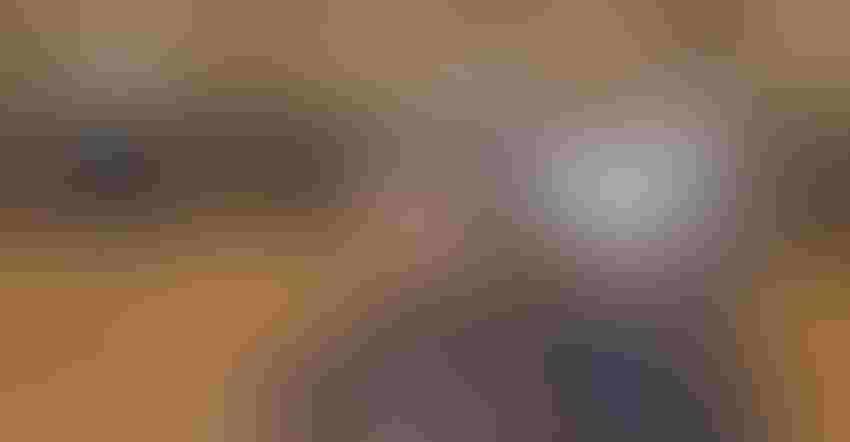 HELP 4-H'ERS LEARN: Steve Nichols didn't judge this particular class of showmen, but he judged more than 600 hog shows in his 45-year career.
Steve Nichols learned about hogs while judging on the Purdue University livestock judging team in college. At the same time, he learned about life, people and the real value of judging from his professor and mentor, the late Hobe Jones.
"Back then, Hobe was considered one of the top hog judges of the day," Nichols recalls. "He helped me get my start. But he did more than that. He passed along philosophies which I tried to follow throughout my career.
"One thing Hobe told me was that if you ever went to judge a show, walked into the room and wasn't at least a bit nervous, it was time to quit!" Nichols says. "He was right. I slipped in a Tums when I judged the show in Florida this winter. If you don't get a little nervous, you're likely not ready to give it your best. At some of the bigger shows I would get more than a little nervous, but once we got a class or two into it, I was ready to roll."
Kids matter
Some of Nichols' fondest memories are from working with kids with special needs. "I was judging a show in the South and a kid came in the ring who had Down syndrome," he recalls. "He didn't let that stop him. He was happy, moving around the ring and trying to help everybody.
"He had a good pig, but it just wasn't quite good enough. I couldn't get it into one of the top two spots. He wasn't so happy then for a minute, but pretty soon he was back to his old self again. It's amazing what some of those kids can do."
Nichols also recalls judging a hog show in Mercer County, Ohio. "There was another boy with a disability who came into the ring, and he was driving a pretty good pig. In fact, he was a darn good pig, and I was able to use that one.
"After the show I was headed to my car, and a lady came up behind me, walking fast.
"'Do you realize what you just did back there?' she asked.
"My first thought was, 'What did I do now?' I didn't know what to expect.
"'You just made that boy's day,' she said, smiling. 'It's one of the first times something good happened to him.'
"That one gave me goosebumps all the way back home!" Nichols says.
Man of his word
Some things that happened during shows might not have seemed funny then, but they do now, Nichols acknowledges. At one show, another family talked his son Woody, then out of 4-H, into showing a pig for them, since his dad was the judge.
"Dad told me that if I did it, I would get the gate [be eliminated], but they insisted, so I did it anyway," Woody recalls. "And sure enough, I got the gate! Dad keeps his word."
"There is no room for favoritism out there," Nichols says. "I did my best to give everyone a fair shake."
After 45 years of judging hog shows, Nichols announced his retirement last summer.

RIGHT PRIORITIES: Steve Nichols is trading the judge's microphone for a chance to push a baby carriage sometimes. Here he pushes his granddaughter Sadie, daughter of Woody and Kayla Nichols.
Subscribe to receive top agriculture news
Be informed daily with these free e-newsletters
You May Also Like
---