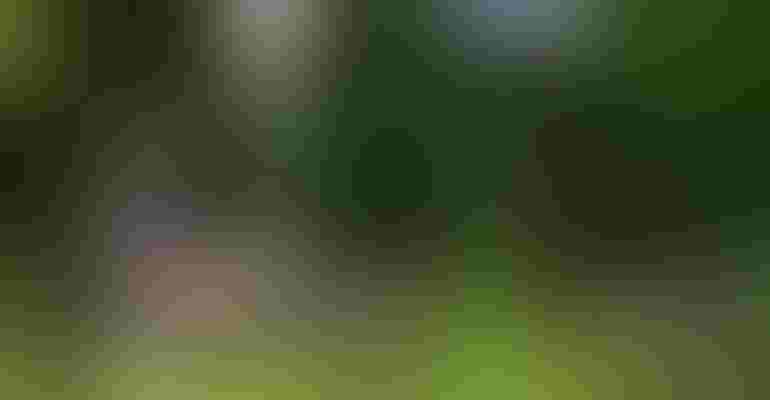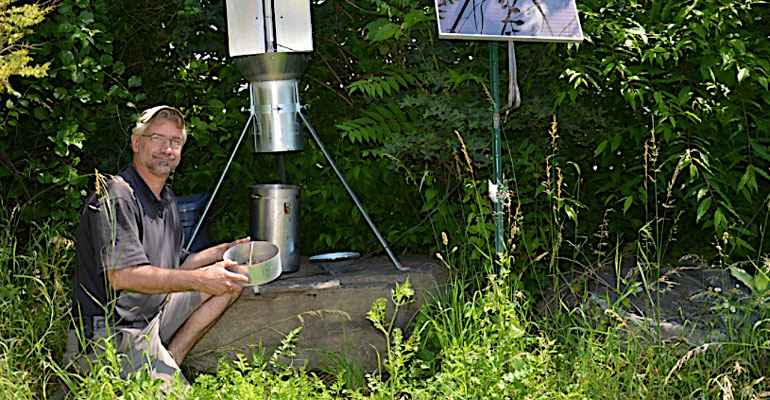 STINKBUG SLAYER: Peter Jentsch monitors brown marmorated stink bugs using a black light trap at the Hudson Valley Research Laboratory. He is working on expanding the number of Samurai wasps to successfully take on the brown marmorated stink bug.
Photo courtesy of Hudson Valley Research Laboratory
In the ongoing battle between the brown marmorated stink bug and samurai wasp, the stink bugs currently have the wasps outnumbered.
Peter Jentsch, entomologist and director of Cornell University's Hudson Valley Research Lab in Highland, N.Y., is gradually changing that math.
"Our success in expanding the range of the samurai wasp as a biocontrol to reduce BMSB populations depends upon our success in rearing a significant number of wasps in the lab," Jentsch says. "Without funding from the New York Farm Viability Institute, I may not have tried venturing into this biocontrol research project. That support has allowed me to dedicate technical support to the rearing of BMSB to grow out the samurai wasps that we are distributing across the state."
The stingerless samurai wasp is a natural enemy of BMSB. The wasp is just 2 millimeters long and harmless to people. In its native Asian environment, the wasp provides significant reduction of BMSB, but it takes a lot of wasps to accomplish this.
"A single samurai wasp female can lay 40 eggs while a BMSB female can lay 300 eggs. Once deployed, it may take 10 wasps to kill the offspring of just one BMSB female," he says.  
BMSB gives off an unpleasant odor when threatened. It is not known to be a threat to humans or pets, but it can damage fruits, vegetables and field crops.
In the U.S. the pest was identified in 2001 from specimens collected in the mid-1990s in eastern Pennsylvania. StopBMSB.org reports the stink bug in 46 states, with the highest concentration along the Atlantic Coast from New York through North Carolina.
It was confirmed as an agricultural pest in New York state in 2012 with significant economic damage to farms in the Hudson Valley. In 2016, a wild adventive population of samurai wasps was discovered on a farm in Milton, N.Y. The farm also had a high population of BMSB causing notable damage to tomatoes and jalapeno peppers.  
Jentsch has used samurai wasps from the Hepworth Farms' population in his rearing program, which was no easy task.
In need of wasps
This past spring, Jentsch searched for approximately 1,000 adult BMSBs, at least half female, to provide egg clusters that the samurai wasps could parasitize to lay their own eggs. The wasps emerge as adults for release at key sites statewide.
Reports to the iMapInvasives network and EDDMapS system for early detection and distribution helped identify key BMSB hotspots.
EGG PARASITE: Samurai wasps invade brown marmorated stink bug eggs, parasitizing the eggs to lay their own eggs.
"Citizen science helped spur this project with reports of BMSB in 2010-2011 in homes in the five boroughs of New York City, east to Long Island and west to Westchester County," he says. "The reports have become more prevalent from the Syracuse and Rochester suburbs in the last five years."
His first deployment in 2017 was to Ulster, Dutchess and Columbia counties in the Hudson Valley, with additional releases from central New York south and west along the Thruway corridor to Lake Erie.
From cities to farms
Last month, more than 1,100 wasps were deployed at 50 new locations from Syracuse west along Lake Ontario, bordering apple orchards, and Jentsch was on the lookout for another 12 sites to augment integrated pest management in orchards and vegetable fields before the end of the season.
Urban areas are critical deployment areas. The higher ambient temperatures and use of dwellings in cities allow the BMSB to more successfully overwinter there.
"We see promise in developing and deploying samurai wasp as a viable biocontrol to reduce insecticidal use both in homes and on farms, and to slow the spread of BMSB into agricultural systems," he says. "If we deploy into the urban areas where the wasps, too, can more successfully overwinter, the wasps are available to parasitize the BMSB eggs in the spring as they emerge from overwintering within manmade structures."
STINK BUG SPREAD: The state colors in this map, updated in March, distinguish where brown marmorated stink bug (BMSB) has been found, where it is a nuisance and where it is an agricultural pest. Red states report severe issues with BMSB. The colored circles represent the years and locations of Samurai wasp recoveries.
Once Jentsch's lab starts rearing samurai wasps in higher numbers, deployment will occur in more heavily forested areas, near farms, that BMSB prefer as habitat.
"In times of drought, BMSB moves from the trees along field borders into agricultural systems to feed along the edges and into such crops as corn, soybean, tomato, peppers, apple and peach," he says.
Jentsch's Samurai wasp release is one of several IPM measures that are being deployed in the battle against BMSB. They include pheromone lure trapping and insecticide-treated netting with LED lighting along fields and orchard edges. Spray applications are also available for use at varying intervals.
For more information, visit The Jentsch Lab blog. Growers interested in learning more about receiving a wasp release can reach Jentsch at [email protected].
Dunn writes from Mannsville, N.Y.
Subscribe to receive top agriculture news
Be informed daily with these free e-newsletters
You May Also Like
---