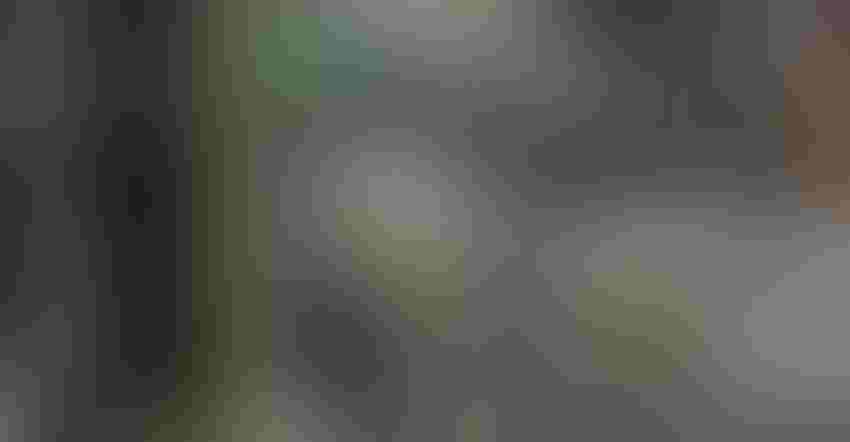 MAINTAINING QUALITY: Reisch Gold Top Beer is being brewed according to the original recipe, which includes having a corn content higher than 25% and using the "krausen" technique.
Photos by Les Seagren, Reisch Charities
The Reisch family of brewmasters who operated a brewery in Springfield for 117 years are finding a new way to give back to the community they left decades ago, when market forces pressured the small brewery to close and lead Edward Reisch to Pabst Blue Ribbon, and eventually, son George Reisch to Anheuser-Busch, now AB InBev.
George's son Patrick Reisch, a sixth-generation brewmaster working for Goose Island, has helped his retired brewmaster father oversee three batches of Reisch Gold Top Beer brewing in southern Wisconsin — each at larger volumes than the last to meet growing demand.
For the first time since 1966, Gold Top is being shipped and sold around Sangamon County in dozens of liquor stores, bars and restaurants. All proceeds from beer sales will go to the Springfield fairgrounds, the Abraham Lincoln Presidential Library and Museum, and other area Springfield heritage organizations.
"We can't keep it on the shelves. Every time a new batch gets dispersed in Springfield, it's gone within days," says Roy Mayfield, founding member of the Reisch Brew Crew, a Springfield collectors club that worked with the Reisches to start Reisch Charities last year.

BREWMASTERS: George Reisch (middle) and his son Patrick (right) talk with a brewer from Potosi Brewery in Potosi, Wis.
The fairgrounds, which suffers from a backlog of $185 million in deferred maintenance and repairs, wasn't always owned by the state. The land used to be owned and operated by the Sangamo Club, which then deeded the property to Illinois.
The Reisches, who opened Springfield's longest-lived brewery in 1849, were heavily involved in the club and raised money for it. They even brewed a Sangamo beer that wasn't commercially sold but was served to family and friends in the club. The Gold Top brand, however, is the last of the half dozen or so Reisch beer recipes that have been written down in full.
"It was back in 2007 when my grandpa Ed sat down, discussed the recipe with us, and we got the details down. Gold Top, I believe, was the biggest beer Reisch breweries made, so obviously that was the one he wanted to describe to us if we were ever going to recreate it," Patrick says.
Shortly after George retired from AB InBev a few years ago, members of the brew crew came to him with the rights to the Gold Top brand, asking him to take up brewing Reisch beer again. George says their persistence eventually paid off, after he helped a startup brewery get off the ground in Atlanta, Ga.
He resigned as board member for the brewery, New Realm brewing company, and worked with the crew to revive the Gold Top brew to raise funds for Springfield historical sites.
"My dad was about to turn 100, and I thought now would be as good a time as any for the Reisches to give back to the community again," George says, adding that they were able to brew the first batch in time for the March birthday. "He always said, 'The Reisches give until it hurts.'"
A nonprofit brewery in Potosi, Wis., proved to be a perfect partner for the moderately sized batches they wanted to produce. The brewery maintains quality, while the Reisches oversee production. At the end of April, they started the third and largest batch. George says they'll likely land on smaller batches, made more often, as they get a clearer idea of what their steady state of demand is.
"Everyone in the Brew Crew was eager to get this going, but some of us were a little nervous about the flavor. People who drank it back in the '60s, some say it didn't taste good," Mayfield says. "Turns out, it tastes great. Reisch suffered a quality control issue in 1963 when Ed left for Pabst. So for those last three years they stayed open, the reputation started going down. But now we know, when you brew Gold Top right, it's fantastic."
Gold Top is made from two-row barley and flaked corn, with at least a 25% corn content, Patrick says. It relies on the "krausen" technique, where when a brew is almost done fermenting, they make another smaller brew to add on top, injecting fresh, healthy yeast back into the lager for a "nice and clean finish."
"We were basically living in a community where we wanted to support each other," George says of growing up at the Reisch Brewery in Springfield. "Corn was the one ingredient that all Midwestern breweries used. AB uses it on Busch still. We're using it with Reisch, and we're proud of it. We're honored to support Midwest farmers, and of course, Illinois sweet corn is just fabulous."
George says he could see a future where the Potosi brewery makes 1,200 to 2,000 barrels a year, though he's still unsure where demand will land. He says the Reisch charity only started getting payments in April, and is laying the groundwork for getting proceeds to fairgrounds and other Springfield heritage 501(c)3 organizations.
"As long as it keeps selling, we'll keep making it," Patrick concludes. "The more beer we sell, the more we can give back to the community. The dream would be that we grow from here, so that more and more good comes from it."
About the Author(s) Associate Editor, Prairie Farmer
Austin Keating is the newest addition to the Farm Progress editorial team working as an associate editor for Prairie Farmer magazine. Austin was born and raised in Mattoon and graduated from the University of Illinois at Urbana-Champaign with a degree in journalism. Following graduation in 2016, he worked as a science writer and videographer for the university's supercomputing center. In June 2018, Austin obtained a master's degree from the Medill School of Journalism at Northwestern University, where he was the campus correspondent for Planet Forward and a Comer scholar.
Austin is passionate about distilling agricultural science as a service for readers and creating engaging content for viewers. During his time at UI, he won two best feature story awards from the student organization JAMS — Journalism Advertising and Media Students — as well as a best news story award.
Austin lives in Charleston. He can sometimes be found at his family's restaurant the Alamo Steakhouse and Saloon in Mattoon, or on the Embarrass River kayaking. Austin is also a 3D printing and modeling hobbyist.
Subscribe to receive top agriculture news
Be informed daily with these free e-newsletters
You May Also Like
---