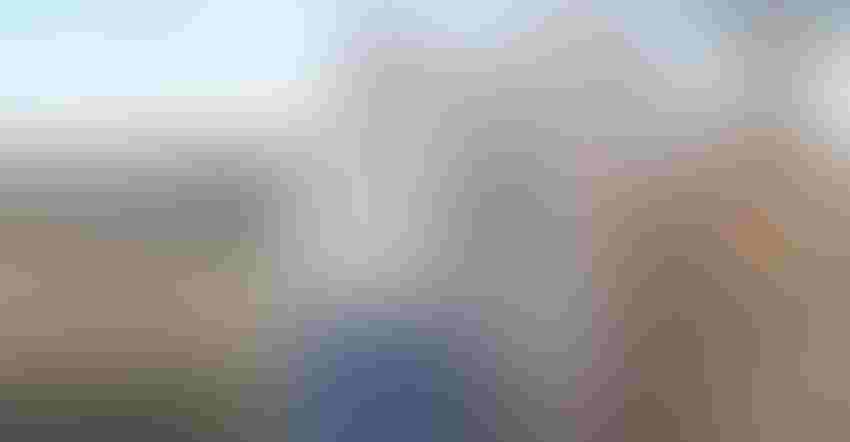 THIRD GENERATION: Terri and Jim DeGeer came back as the third generation on her family's farm in Neosho County and pursued their dream of a seedstock beef cattle operation. They are also the third generation to earn the Master Farmer/Master Farm Homemaker award.
Earning Master Farmer/Master Farm Homemaker status is something of a family tradition on the Reinhardt/DeGeer farm in Neosho County.
Jim and Terri (Reinhardt) DeGeer are the third generation to earn that distinction while farming that land.
"The interesting thing is all three farming operations have been distinctly different," Jim says. "Terri's grandparents had the typical '50s diversified farm with crops, livestock, a few chickens and a Grade A dairy. Terri's dad and her uncle expanded into a dedicated dairy operation. We came back to the farm in 1986 when they decided to take the dairy buyout program, and we started the beef operation that we still have today."
The DeGeers raise registered Gelbvieh cattle and have a herd of about 140 cows. They also have a value- added operation where they finish12 to 15 steers a year to sell as locker beef to local customers.
"We have developed this part of the business to add value to some of our calves that we can't market as bulls," Terri says.
In addition, Jim still has an interest in the family ranch where he grew up in Barber County, an operation now run by his brother.
"I'm a fourth-generation seedstock operator," Jim says. "When I was a kid we had a shorthorn beef herd."
The seedstock herd was sold to pay estate taxes on the ranch after his grandad died, and his dad began running steers on that land.
"Beef cows were my first love. I got a job managing a beef operation at Howard for a time and then was lucky enough to become a herdsman for Schlickau Hereford at Haven. George Schlickau was my mentor, and Lois is still a good friend," Jim says.
In 1986, Terri's dad and uncle were ready to retire from dairying. They called Terri to see if she and Jim would be interested in coming back to the farm.
"We didn't want to do dairying," Terri says. "But we told them we'd come home and do cow-calf."
They chose Gelbvieh because they could get started with commercial cows and participate in a breed-up program through the Gelbvieh Association.
The DeGeers participate in the Kansas Sunflower Supreme Heifer Program offered through KSU Extension and follow their health and breeding protocols.
They use AI for about 85% of their females and turn in a bull after AI is complete.
"I was in semen sales, and I'm an AI technician," Jim says. "We are still working to improve our herd."

RANCH SIGN: The Flint Hills is known for its signature flint rock. Terri and Jim DeGeer chose that limestone for their ranch sign. Landscaping includes pampas grass and perennial flowering shrubs.
The DeGeers both have been active in the Chanute United Methodist Church since 1987, were involved in 4-H leadership while raising their daughters, Melissa and Staci.
Oldest daughter, Melissa DeGeer Myers, now 34, is a 2003 graduate of Kansas State University with a major in animal science and industry. She is currently pursuing a master's in counseling through Texas A&M.
She and her husband have been stationed at Fort Bragg, N.C.; Fort Sill, Okla.; and a NATO base in Vicenzia, Italy.
Younger daughter Staci, now 30, earned her bachelor's in food science and industry at K-State in 2007, her master's in food microbiology in 2009 and her Ph.D. in meat science with a graduate certificate in college and university teaching from Auburn University in 2014.
She is employed as a product development scientist with Nestle Purina PetCare's global wet pet food division and was a major contributor to the national launch of Friskies Cat Concoctions.
Both Jim and Terri have taken leadership roles in Kansas Farm Bureau, the Kansas Livestock Association and the National Cattlemen's Beef Association.
In addition, Terri has worked for 30 years as a school counselor, serving in leadership positions in the schools where she works and in professional organizations.
Experiencing a wildfire
Jim's family's ranch in Barber County was at the center of the Anderson Creek Wildfire that burned more than 400 square miles of the county in late March of 2016.
He says they lost a pickup truck, a stock trailer and a machine shed on the farm, which burned for more than a week before an Easter morning snowfall and two rain events finally helped bring it under control.
"I've been buying and hauling fence posts to Medicine Lodge all summer to help rebuild all the fences that were destroyed. We had to replace probably 15 miles of perimeter fence," Jim says.
He says the ranch has been part of an ongoing effort in the Red Hills to fight the infestation of eastern red cedar trees and that the wildfire helped them get rid of a lot of trees that they hadn't been able to get to.
"The comeback has been great," he says. "My brother Charlie had previously signed up for a lesser prairie chicken habitat study and more recently a deer study to help finance conservation work on the ranch. And we've spent thousands of dollars cutting cedars."
Click on the following links to read the other Master Farmer stories: 90 years later, Barker family, Felbush family, Kaiser family, Minnix family, and Tipton family.
Subscribe to receive top agriculture news
Be informed daily with these free e-newsletters
You May Also Like
---