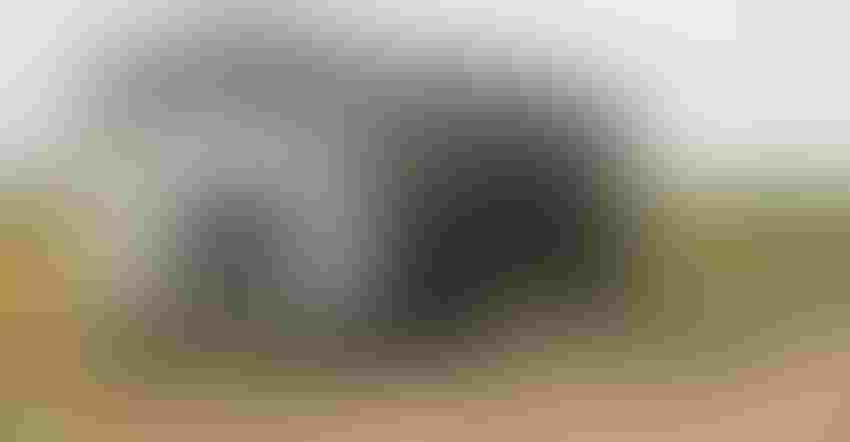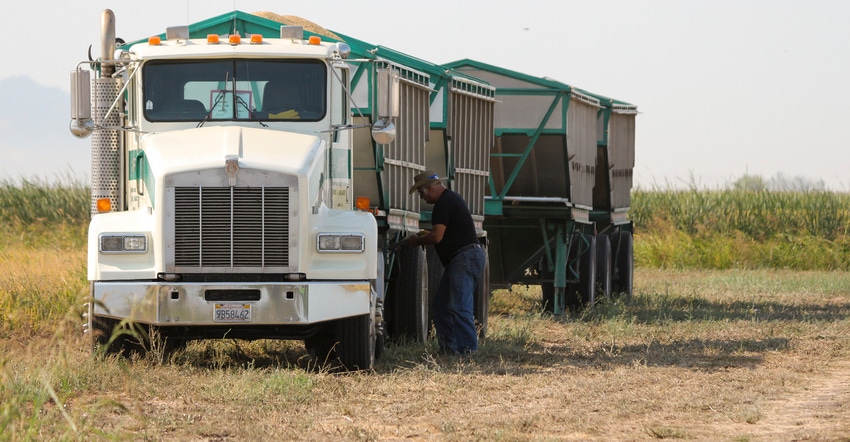 A significant shortage of truck drivers to haul agricultural goods from the fields to processing could hamper half of California production later this summer. Industry is asking for the easing of truck weight limits on California roads to allow for more efficient movement of commodities.
Todd Fitchette
Getting agricultural exports through seaports and onto their global destination was the topic of several hours of discussion by the California Board of Food and Agriculture as the logjam of shipping vessels at anchor continues.
The good news is this logjam appears to be receding, according to Gene Seroka, executive director of the Port of Los Angeles. The bad news: local, state, and federal policy issues left unchecked will continue to hamper trade to and from the West Coast regardless of the number of container vessels at anchor along the coast.
Agricultural exports were unchanged, year-over-year from Los Angeles and Long Beach between 2019 and 2020, with an almost insignificant increase in exports from Oakland. Over the same period, fruit and nut exports from California were unchanged with shipments of oil seeds, miscellaneous grain, seed, and other products down slightly, Seroka told board members in a virtual meeting.
Why the flat exports when global maritime shipping companies are waiting a week at anchor to offload as demand for consumer goods increases? The answer is simple: shipping containers emptied of their products in the U.S. are still being returned to Asia unfilled by agricultural goods because the shipping companies stand to make more money by quickly returning containers to Asian ports to be refilled with all sorts of consumer products.
Related: Congress demands action by Maritime Commission on ag exports
Seroka reports record-breaking volume of imported goods moving through California ports. The reciprocal cannot be said for agricultural goods destined for foreign markets.
Seroka highlighted several issues facing U.S. exporters. Topping that list are the trade policies hampering farmers trying to get their goods shipped overseas. Tied to this is global monetary policy that favors a high U.S. dollar relative to world currencies. A high U.S. dollar means foreign agricultural competitors can more easily sell their commodities into other world markets, including the U.S.
Yet another issue that could hurt any economic recovery will be the renegotiation of longshore labor contracts next year, Seroka said.
All this is inconsequential if maritime shipping companies are going to compete unfairly, as trade associations have argued with the Federal Maritime Commission. Maritime shippers are currently reporting record profits as they favor quick turn-around times and the ability to capture higher shipping fees collected by Asian exporters over U.S. agricultural goods.
In one example cited during the meeting, U.S. agricultural exporters can pay several hundred dollars per shipping container to move commodities to Asia, whereas Asian exporters sending electronics or other consumer goods can pay thousands of dollars to have their goods shipped.
Trucking industry challenges
It is not just the ports affected, but the whole transportation chain that suffers as global trade picks up in a post-COVID world. A shortage of trucks, chassis to hold the shipping containers that are pulled behind big rigs and even the steel used to manufacture those products is combining to hurt the U.S. economy. The ongoing driver shortage reported by the trucking industry is another cog in a broken wheel.
Weston LaBar, chief executive officer of Harbor Trucking Association, says local, state, and national policy issues are making it difficult for truck drivers in general, and what he calls "draconian" public policies in California are causing some truck drivers to avoid California altogether.
For truckers specifically, some of those rules are federal – like the national Federal Motor Carrier Administration rules governing hours of service and truck weights. Still, California could increase the weight allowance for big rigs on non-interstate highways, which LaBar and others say would go far in improving truck efficiencies and help meet air quality goals by reducing the number of truck trips needed to haul loads.
Related: Shipping constraints sour U.S. agricultural exports
A current move is afoot to address this specifically with vehicles used to haul harvested commodities. Increasing these weight limits will go a long way towards helping agricultural producers at a time when industry insiders are being told they may not have the drivers available for harvest activities.
John Larrea, director of government affairs with the California League of Food Processors, said the current driver shortage of about 30% could grow to 60% by June, meaning growers may lose the ability to move half of their crops to processing.
For this reason, Larrea is asking the state Department of Food and Agriculture to encourage Gov. Gavin Newsom to relax state trucking weight limits to ease this shortage and allow for a more efficient movement of goods to processing. Even so, the federal government would need to similarly relax rules for the heavier weights to be allowed on the federal highway system.
Long-term outlook
LaBar pointed to long-term impacts of heavy regulations on trucking and other industries. He cited the irony of relaxing California Environmental Quality Act (CEQA) requirements to "fast-track" construction of sporting arenas, while allowing transportation and infrastructure projects that would ease highway congestion, improve trucking efficiencies, and improve air quality to languish for nearly 20 years before a single shovel is turned.
Peter Friedmann, executive director of the Agriculture Transportation Coalition, pointed to short-line rail projects on the East Coast that allow for a more efficient movement of goods coming in and departing through U.S. ports. California and the West do not have such infrastructure, which makes trucking in the West more vital to the movement of goods.
LaBar says he supports these short-line railroads in concept, but the big U.S. rail companies apparently do not. This could stymie the efforts of local and regional officials looking to build inland ports. These inland facilities are said to help alleviate storage constraints at seaports, while giving shippers an opportunity to stage goods and equipment marked for export or awaiting delivery to domestic markets.
Related: Are American farmers being boxed out of global marketplace?
Friedmann pointed to the willingness of other states to facilitate the needs to move imports and exports through their ports, while California seems to be geared with an opposite mindset. While those states and their economic development commissions provide private industry what they need to achieve their goals by building infrastructure and easing regulations, "California seems to be putting up roadblocks," he said.
State responds
Officials with the California Department of Transportation and the Governor's Office of Business and Economic Development pointed to long-term studies and the idea that there is "no easy fix" to the port's congestion issue as reasons why economic improvement continues to languish in the state.
Frank Ramirez with the governor's office said he can understand why complaints by industry carry merit and how California continues to trail other states in terms of economic viability from a competitive nature.
Friedmann said there is basically nothing in California, agricultural or otherwise, that cannot be produced elsewhere in the world, and private industry is exploiting that to the detriment of the Golden State – particularly California farms as the kinds of commodities produced there can all be sourced in other states and countries.
A California almond handler who used to ship almonds to a Japanese candy maker completely lost that market during the ports fiasco as they were unable to move nuts in a timely manner. In response, Friedmann said the Japanese company sought foreign hazelnuts for its candy.
"To this day that California almond exporter has not regained that Japanese confectioner as a buyer," he said.
Subscribe to receive top agriculture news
Be informed daily with these free e-newsletters
You May Also Like
---