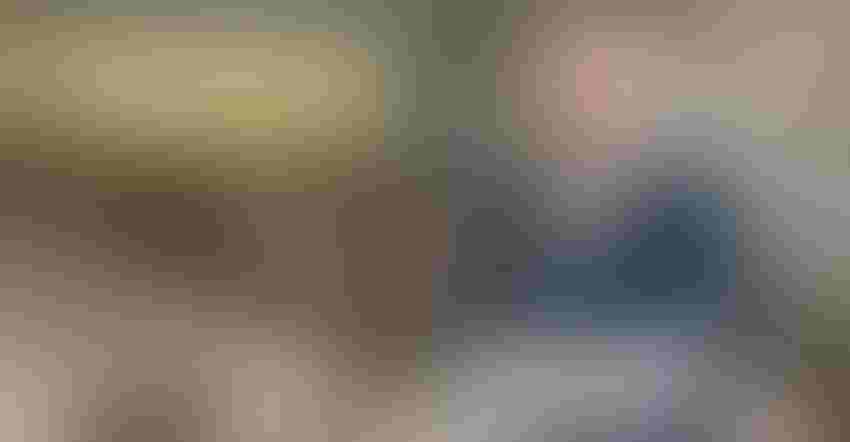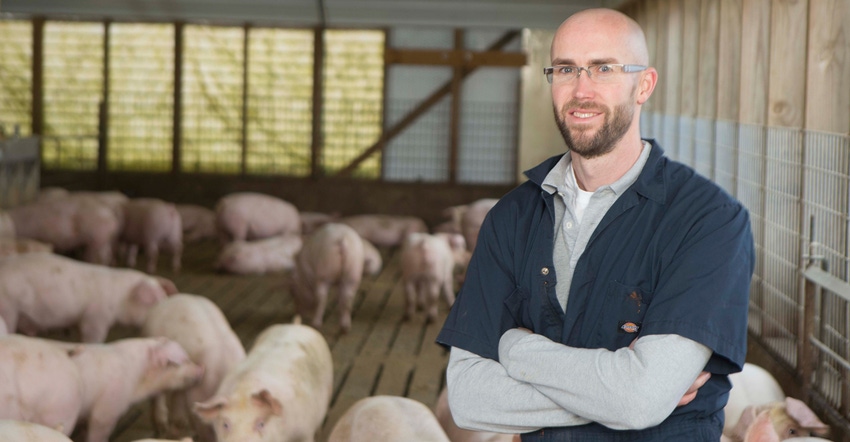 PIG FARMER: Thomas Titus of Tri Pork in Elkhart, Ill., is one of the youngest IPPA presidents in history. His advice for the next generation? "Say yes when everyone else says no," he explains.
Photos courtesy of National Pork Board
Thomas Titus might not be 40 yet, but the Elkhart, Ill., hog farmer and Illinois Pork Producers Association president has already spent decades sharing the agriculture story.
"Advocacy has always been a priority," Titus says. "I was surrounded by those who were active, with a servant attitude to give back and be involved in important decisions. There's a long family legacy on both sides of serving the industry."
Indeed, Titus is one of the youngest IPPA presidents in history. He grew up on a farm near Arcola, Ill., the son of Phil and Patricia Titus, and was active in 4-H, adding that the Illinois Pork Expo was an annual highlight. After high school, he started at Lake Land College and then graduated from the University of Illinois in agricultural education.
And while he's never taught in a classroom, Titus has put those ag education skills to work talking about agriculture to consumers, hosting the Illinois Harvest Dinner and serving as a U.S. Farmers and Ranchers Alliance advocate. He's also served on nearly a dozen boards, both locally and nationally — most recently as IPPA president.
How has IPPA impacted your life? I was a college intern for Illinois Pork Producers in 2006. That summer I spent a significant amount of time with the Conrady family, as Dave was a board member and volunteered frequently. I met my wife, Breann, the following summer while I was volunteering at the Pork Patio at the Illinois State Fair. I was wiping down tables and her family, the Conradys, were volunteers too. The rest is history. From there we both graduated college, got married, and moved to Wichita, Kan., while I worked for Cargill in procurement.
Then your family experienced a tragedy. Breann's brother Ross tragically passed away in 2008 at age 18, leaving a legacy gap in the pork side of the Conrady family farm. Breann and I decided to move back to her family farm about 10 years ago. I work with Breann's father, Dave, at the family pig farm, Tri Pork Inc. Dave is a second-generation pig farmer who has always had a strong passion for raising pigs. Breann's brother Brett and sister-in-law, Janna, manage the grain side of the farm.
What does Tri Pork look like today? We grow 10,000 pigs a year as part of our 625-sow farrow-to-finish farm. Our pigs are sent to Smithfield in Monmouth, Ill. We're smaller, which has its advantages. We can be diversified and flexible at the same time. We cover the gamut — although labor certainly is a challenge. All corn from the farm is fed to the pigs, and luckily, everything is farmed within 5 miles from the barn.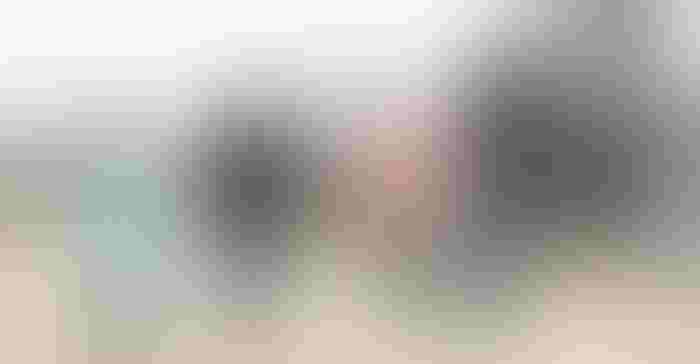 What does legacy mean to you? Legacy means the opportunity to provide something for the next generation. You always hope your kids have the same level of passion that you do. At the end of the day, raising your family is just as important as raising your livestock. Providing an opportunity for the next generation to come back is the ultimate goal. You never want the farm to end with you.
Talk about your experiences showing livestock. I always grew up raising show pigs on our family farm. We raise show pigs today, and my kids really enjoy it. Breann's brother Ross had a herd of Chester whites that he was really enthusiastic about. We have continued RBC Chesters in Ross' honor, and our kids get to show pigs from what were originally Ross' sows. We hope our kids have that same level of joy for competitive livestock that Breann and I always had. It's a great youth development tool — caring for something that's greater than you teaches our kids to be nimble and flexible in challenges.
Why get involved beyond your farm? Sometimes as a farmer, it's easy to isolate yourself from what's going on. And especially for the younger generations, it's hard to take time away because you're such a key part of the operation. I always encourage the next generation to participate in boards and associations. Whether it's giving back to your local community or influencing national policy, both are equally valuable.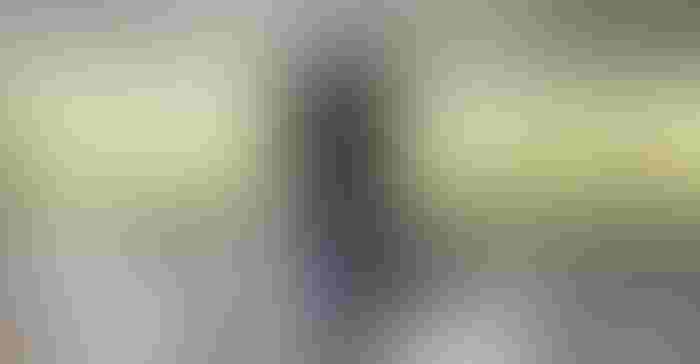 What boards and associations have you been involved in? Illinois Pork Producers president, Chester White Association president, Logan County Farm Bureau treasurer, Faces of Farming and Ranching for U.S. Farmers and Ranchers Alliance, served on the Chester White Certified Pedigree Swine Association, Team Purebred, Logan County Farm Bureau board, National Pork Board and the Market on the Hill board — that's our local grocery cooperative.
What have you learned through your advocacy efforts? You have to be transparent with what you do, and social media has been a great tool for consumer outreach. It's important to communicate at a high level about how we care for our animals. Often it's the simple or mundane things that garner the most interest, like photos of baby pigs or kids.
What do you wish people understood better? I wish more people understood the level of care and commitment we have for our animals. We work to provide for them as their caretaker, everyday — even on weekends and holidays. We always have to work to build trust in the food system and open the communication pipeline between farmers and consumers.
TITUS REFLECTS
On his decision to be IPPA president:
"Say yes when everyone else says no."
On showing livestock:
"I'm a herd manager for a bunch of kids under the age of 11."
On family and farming:
"At the end of the day, raising our kids is most important."
On IPPA:
"Our producer-members, staff and leadership are second to none working on behalf of pig farmers across the state."
TITUS IN BRIEF
Pig breed? Yorkshires
Truck? Ford
Tractor? Grew up green, bleed red today
Book? "Good to Great" by Jim Collins
Cut of pork? Loin or chops
Team? University of Illinois baseball and St. Louis Cardinals
Best decision? Marrying my wife
Best advice? Don't be afraid to do something that makes you uncomfortable.
Family? Wife Breann; daughters Reagan, 11, and Lakin, 8
About the Author(s)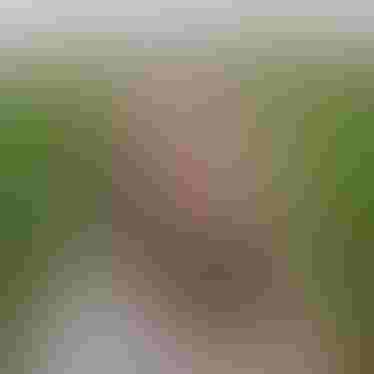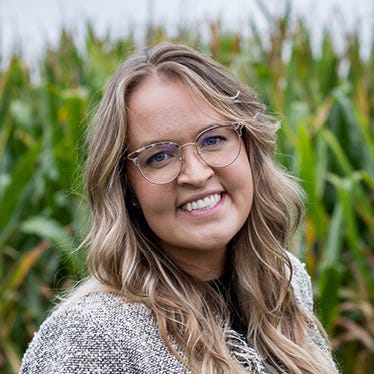 Betty Haynes is the associate editor of Prairie Farmer. She grew up on a Menard County, Ill., farm and graduated from the University of Missouri. Most recently, Betty worked for the Illinois Beef Association, entirely managing and editing its publication.
She and her husband, Dan, raise corn, soybeans and cattle with her family near Petersburg, Ill., and are parents to Clare.
Betty recently won the Emerging Photographer Award from the Ag Communicators Network during the 2022 Ag Media Summit and placed in the Emerging Writer category as well.
Subscribe to receive top agriculture news
Be informed daily with these free e-newsletters
You May Also Like
---