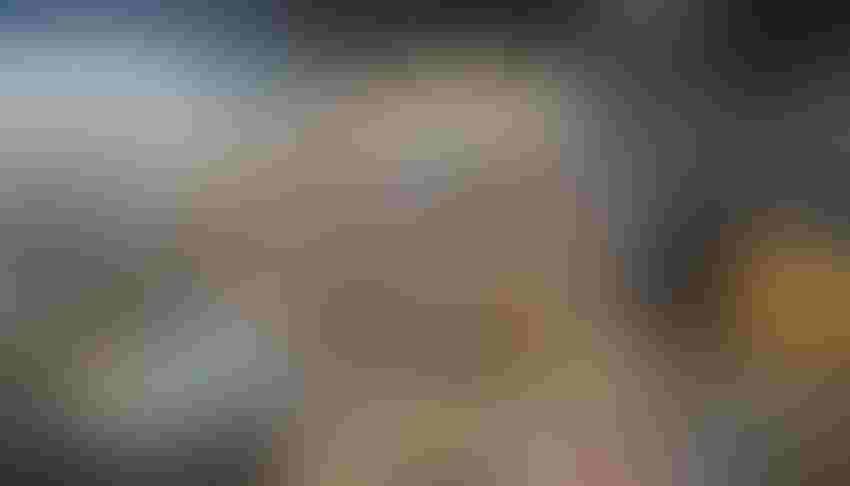 Tillamook Creamery renovated its visitor center in 2018, adding a retail market that features a large selection of Tillamook's products, local specialty food items, and branded apparel and goods.
Tim Hearden
Walk into Tillamook Creamery's Visitor Center store and you'll find what you'd expect – refrigerators and freezers full of the Oregon cooperative's iconic cheeses, yogurts and ice cream flavors, plus an assortment of t-shirts, cutting boards and other souvenirs.
But you'll also find other brands owned by small, Pacific Northwest-based companies, such as summer sausages that taste great with Tillamook's smoked cheddar and a syrup that fits perfectly with vanilla ice cream.
To a company, these partner vendors support small, local agricultural producers who share the Tillamook County Creamery Association's vision for promoting better quality and environment-friendly practices. And they enhance the TCCA's retail offerings.
"Because a lot of these local vendors also source their ingredients locally, it builds community," said Jessie Lee, Tillamook's direct commerce buyer and merchandiser. "I think that's a great partnership to work with local vendors."
Related: Tillamook wants to be nation's favorite brand
The dairy cooperative strives "to select products we believe are just as premium as our brand," noted Deanna Hirt, Tillamook's director of direct commerce.
"We source items that highlight our products, like an ice cream sauce, that are also premium quality," Hirt told Farm Progress. "When possible, we try to source things regionally from the Pacific Northwest, or are made by companies that have similar shared valued as ours. It's not a perfect science … but it is definitely something we strive for, especially with those other consumable items."
The Visitor Center takes the same approach with the outside vendors that make apparel, she said.
"We do sell a lot of apparel here," she said. "Even with the apparel, we look for vendors with shared values of good stewardship."
High-quality ingredients
Tillamook has long marketed its food products on their high-quality ingredients. For instance, its ice cream uses more cream and less air than the industry standard with no artificial flavors or sweeteners, no synthetic colors and no high fructose corn syrup.
More than 1.4 million tourists visit the creamery in Tillamook, Ore., each year, or as many as 10,000 per day during the busy season. The center was expanded by more than 50% in 2018 to handle the crowds, and it includes a larger dining area and expanded ice-cream counter, a new retail market and an enhanced viewing area for guests to watch the co-op's cheese production and packaging operations.
For Michael Johnson, sales and marketing manager for Laurel Foods, it seemed a perfect fit. The Hillsboro, Ore.-based company sells an assortment of Oregon-grown flavored hazelnuts and nut butters.
Related: Tillamook recognized for stewardship work
"Tillamook has set a high bar for sustainability and community support and have pioneered a structure that supports all aspects of their industry, from farmers to workers, customers, students, and young professionals," Johnson said. "We are beyond pleased to be able to partner with such a prolific steward of the local food shed."
Johnson has fond memories of visiting the Tillamook Creamery store as a child, so seeing Laurel's products on the shelves has been "a very serendipitous experience," he said.
"It has become a hub and 'must stop' for visitors to the Oregon coast, and as such, has given our products tremendous exposure," he said.
The story of Oregon
The Sugarpine Drive-In in Troutdale, Ore., partners with companies like Tillamook that "tell the story of Oregon," owners Ryan Domingo and Emily Cafazzo said in a testimonial emailed to Farm Progress. The small restaurant works with family farmers and ranchers in the West Columbia River Gorge and with Oregon Coast day-boat fishermen to "serve a menu that represents a taste of place and showcases the best of the Pacific Northwest," the owners said.
Just a hop off Interstate 84 about 20 minutes east of downtown Portland, Sugarpine's signature "waffle-grilled" cheese sandwich features Tillamook cheddar because it's local and it's the best, Domingo and Cafazzo said.
Related: Tillamook wants to be nation's favorite brand
"Having our sundae sauces on the shelves at the Tillamook Creamery Visitor Center was a dream of ours since we opened the drive-in in 2018," they said. "Our missions align well in working hard to bring better food to our communities. The exposure has been instrumental in the growth of our sauce program, and it feels great to be represented alongside a true Oregon ambassador."
Tillamook's brand is well-known to Western shoppers; it claims as much as 80% household penetration in the Pacific Northwest. It's now in every U.S. state with Costco, Walmart, Target and Kroger, and hopes its burgeoning reputation for sustainability will help it increase distribution. As part of this effort, the company last year announced a goal of using 100% recyclable, reusable or compostable packaging by 2030.
Expanding online
Tillamook's product placement in major retail stores makes up a large majority of its business. As far as direct sales go, in addition to having its own store within the Visitor Center, Tillamook also operates a shop in the Portland International Airport, where it sells many of the same products.
Tillamook discovers its small-vendor partners in various ways, including by attending the multitude of pop-up food and gift shows in the Portland area that feature Pacific Northwest vendors, Lee said. Food businesses also send in samples, she said.
While the cooperative's online store accounts for a much smaller percentage of direct sales, Tillamook plans to grow its online sales presence in the next five years, and more of the Pacific Northwest-based offerings at the creamery will be showcased in the online store, Hirt said.
"We are an over 100-year-old company based on the Oregon coast, and we like to do our part and also highlight vendors from Oregon, especially for all of these travelers coming in from different states and different countries," Hirt said. "I think it's very important.
"Oregon's agriculture is so diverse and so healthy, we are in such a great place for food," she said. "These vendors and these makers have such a wide range of offerings. Why wouldn't we source from our own backyard?"
About the Author(s)
Subscribe to receive top agriculture news
Be informed daily with these free e-newsletters
You May Also Like
---