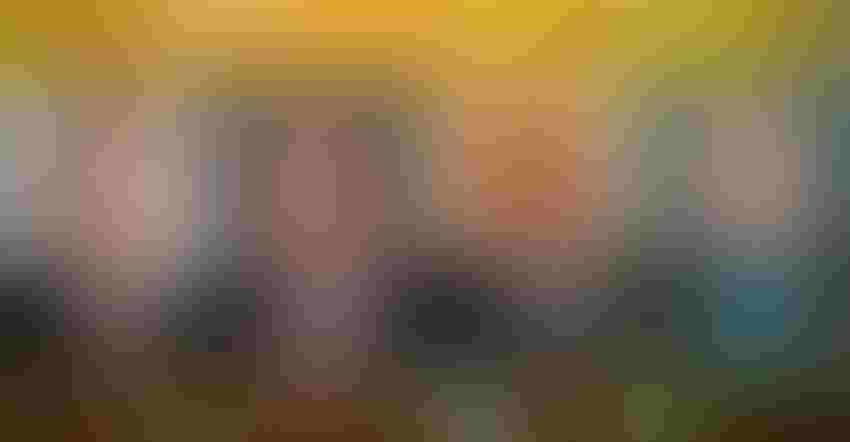 NEW MEMBERS: The Ohio Agricultural Council will induct four members Aug. 2 to the Ohio Agricultural Hall of Fame. They are Bryan Black (left), Charles A. Holdren, Lewis R. Jones and Robinson W. Joslin (posthumous induction).
Four Ohioans who have committed their lives to working in, promoting and advocating for Ohio's farm community will be honored Aug. 2 by the Ohio Agricultural Council when they are inducted into the Ohio Agricultural Hall of Fame.
Bryan Black of Canal Winchester, Charles A. "Al" Holdren of Ashland, Lewis R. Jones of Grove City and Robinson "Rob" W. Joslin of Sidney, will be inducted into Ohio Agricultural Hall of Fame at a special breakfast ceremony held in Kasich Hall at the Ohio State Fair in Columbus. The 54th annual event will attract more than 600 guests to honor these four professionals for their lifetime of service and dedication to Ohio's agriculture community.
"This is a very special class of inductees, and I am so pleased to recognize their expansive contributions to Ohio agriculture," says Hinda Mitchell, OAC president. "With representation from state agencies to agribusiness to those who spent their lives working a farm, our 2019 inductees have given of their time, talent and leadership to advance the interests of Ohio agriculture, and to serve our farm community with distinction."
The following four inductees will join the 229 recipients named since 1966, when the program was incepted.
Bryan Black, Canal Winchester. Known as a true advocate for Ohio agriculture, Bryan Black has spent decades investing in the future of the industry on the county, state and national levels. Starting in 1980, Black partnered with his father, Ned, and brother, Barry to manage Ned Black & Sons LLC — a 600-acre grain and livestock farm — and has served as the farm's owner since 2008. In addition, Black has worked for Kalmbach Swine Management for seven years, serving as the production supervisor to select maternal females for internal replacement and external sales.
From the early stages of his career, Black has served on numerous committees and boards for the good of the industry. As a National Pork Producers Council board member, he was instrumental in guiding the industry through trade disputes, increasing pork consumption in school lunches and fostering relationships with allied industry members. Black served as a president of the NPPC and was also a National Pork Board committee member. In Ohio, he is an Ohio Livestock Care Standards Board member, developing swine standards for the board; and he has also served as a member and president of the Ohio Pork Council.
Black has been recognized with numerous industry awards, including National Pork Producers Council All-American, National Pork Board's Environmental Stewardship Award for Ohio and the Ohio Pork Industry Excellence Award.
Charles A. "Al" Holdren, Ashland. OAC calls Charles A. "Al" Holdren a pillar in the cooperative community, as he has always had the ability to make "work" seem like "fun." Holdren began his cooperative journey with management training at Fayette Landmark before transitioning to become the CEO at Ottawa Landmark. He moved through many company changes and mergers, landing as the CEO of Town & Country Co-op. Holdren served as Town & Country CEO for 26 years, retiring in 2017 after leading the merger of Western Reserve Farm Cooperative to form today's Centerra Co-op.
In his cooperative career, Holdren committed his company to improving the industry, OAC says. He established the annual Ladies Luncheon to recognize and honor the never-ending work of women on the farm, as well as the female employees of Town & Country Co-op. He also worked with CEOs from other cooperatives in Ohio to form Cooperatives for the Cure, raising cancer research funds though initiatives like Fueling the Cure and Growing the Cure. He also has a passion for student scholarships, working tirelessly to raise funds for students in Ohio and abroad.
Holdren was a member of the Ohio State University LEAD II class and was recognized as its Distinguished Alumni in 2006. He has also been recognized by the Ohio AgriBusiness Association as the Golf for Scholarships honoree for his scholarship efforts.
Lewis R. Jones, Grove City. Lewis R. Jones is a constant fixture at the Ohio State Fair, having dedicated his life to the betterment of Ohio agriculture, with a special focus on the dairy sector and a passion for youth development, OAC says. In his career, Jones has served the Ohio Department of Agriculture in numerous positions, including Weights and Measures Division chief, Dairy Division chief and deputy director. Jones has also served the industry as executive secretary of the Ohio Milk Haulers Association and the American Guernsey Association.
In his capacity as Dairy Division chief, Jones was tasked to establish new show-ring ethics for fairs across the state, using his vast industry experience to implement protocols used at the World Dairy Expo. He also instituted the practice of collecting and testing milk samples at the Ohio State Fair to demonstrate federal dairy inspecting and sanitation procedures.
Jones continues to give back to his alma matter, OSU, through scholarships. He is an alumnus of Alpha Gamma Sigma fraternity. In 2011, he was inducted into the Ohio Dairy Hall of Service, selected by the Department of Animal Sciences. In 2017, he was recognized as a Distinguished Alumni of the OSU College of Food, Agricultural, and Environmental Sciences. As an Ohio Agricultural Hall of Fame inductee, Jones follows in the footsteps of his father, Reuben, who received the honor in 1990.
Robinson "Rob" W. Joslin, Sidney. Anyone who spent time with Robinson "Rob" W. Joslin enjoyed his enthusiasm and true dedication to agriculture, evident in everything he put forth, according to OAC. A full-time farmer for 40 years and true family man, Joslin worked nearly every day beside his wife, Ellen. Joslin was always an early adopter of new farm technologies, realizing the value of new practices and implementing them on his farm. For more than 25 years, Joslin's operation was dedicated to conservation tillage and 100% no-till.
With farm roots well planted in Shelby County, Joslin gave a great deal of time to its betterment. He was an active member of the Shelby County Farm Bureau, served on the Shelby County OSU Extension advisory committee and was a 4-H adviser for 20 years. Joslin also served as a trustee on his local township zoning board for more than 20 years, to help plan housing developments and industrial parks that would provide the least interference with the local agricultural community.
Joslin was also dedicated to improving the industry outside his county, serving both the Ohio Soybean Association and American Soybean Association. During his time as ASA president and afterward, Joslin lobbied on behalf of farmers before Congress on important policy issues like trade, conservation, sustainability and more. After his untimely passing in 2016, Joslin was posthumously bestowed with the Lifetime Achievement Award from the American Soybean Association.
For further information, to be an event sponsor in honor of the inductees, or to obtain tickets to the Agricultural Hall of Fame induction ceremony, contact the OAC at 614-794-8970 or via email at [email protected].
Source: Ohio Agricultural Council, which is solely responsible for the information provided and is wholly owned by the source. Informa Business Media and all its subsidiaries are not responsible for any of the content contained in this information asset.
Subscribe to receive top agriculture news
Be informed daily with these free e-newsletters
You May Also Like
---