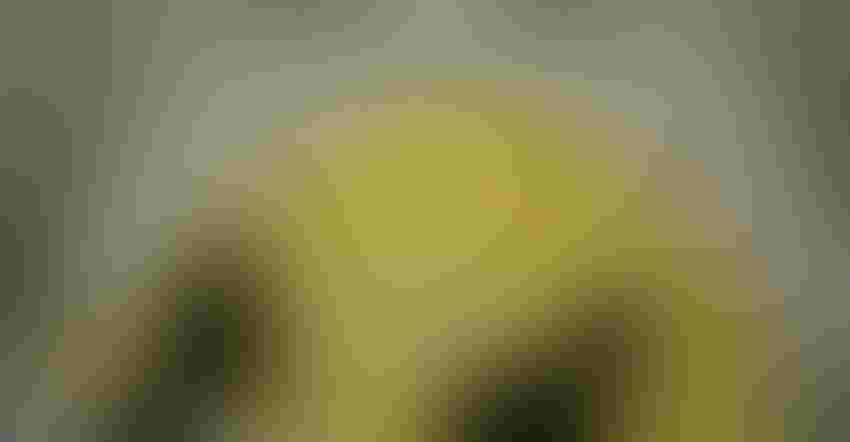 PRE-INFLATION The GSI FlexWave bin cleanout system, pictured before it has been fully inflated.
It's been a busy summer for me. From traveling around the region to going out to Iowa for the 2018 Farm Progress Show, I feel like I need a breather!
But au contraire. September is shaping up to be a busy and exciting month as I write from the basement. All-American Dairy Show and KILE are coming up, and harvest is starting up, too.
I'm going to try to put together these "musings" at least biweekly.
So, here are some of my personal highlights from what's been a memorable and busy summer:
Farm Progress Show
If you ever have a chance to visit FPS, please do so. I'm not just saying this as an employee of the company that runs the show, I really mean it. If anything, it's an experience. I was amazed at how big the show is — this year's show was in Boone, Iowa, and next year it will be in Decatur, Ill.
And, not surprisingly, the show was all about corn and soybeans, with a few other things mixed in. The displays were massive. Corteva, the agricultural division of DowDuPont, had a huge display in an enclosed air-conditioned structure, showing visitors the future of crop and seed technology. This display, complete with an outside lounge — comfy sofas they were — looked like it took days, if not weeks, to construct.
Syngenta also had an impressive display at the show along with equipment companies John Deere and New Holland Agriculture, which had pictures of its customers printed on the sides of its large display.
I saw things at the show I've never seen before. One thing that stood out was the FlexWave bin cleanout system by GSI, a division of Agco. The system uses two large liners that alternately inflate and deflate, pushing the grain into a centrally located conveyor trough for removal. Even though it was introduced at the 2017 Farm Progress Show, this was the first time I saw it, and it was cool to experience.
POST-INFLATION: The GSI FlexWave after it has been fully inflated. Grain flows into a conveyor trough for removal. The idea is to automate the removal of grain from bins.
You always hear people talking about just how technologically advanced agriculture is these days, but you really get to see the progress in person at a show like this. I missed being home, but FPS was a great experience.
Rain rain, go away
Sick of the rain? Yeah, so am I. The storm that passed through Aug. 31 dumped more than a foot of rain on my place in Lebanon County. Roads were flooded and washed out, and I saw a lot of fields with either standing water or destroyed crops.
It will be interesting to see how many farmers file crop insurance claims. I spoke recently to agronomy educator Jeff Graybill of Lancaster County. He says that farmers, for the most part, have been managing the wet weather pretty well. A lot of that has to do with the fact that fields, at least in south-central Pennsylvania, are sloped and well-drained. There are many variations in fields in the Northeast and Mid-Atlantic, so depending on where you are you might be experiencing something completely different.
The crops themselves look pretty good. Most of the corn I've seen is tall and green, and the soybeans look good, too.
Jim Lewis, an agronomy Extension agent in Caroline County, Md., shared his thoughts on corn and soybeans on the Shore.
On corn: "Whole-field yields will be above-average again, but there will be variability within the field due to water damage or replanting. There will be very few consistent passes with the combine from one end to the other this year. A common occurrence will be 400 feet of 180 bushel/acre at 17%, 300 feet of 90 bushel/acre at 20%, 300 feet of 150 bushel/acre at 17%. Or, 500 feet of 150 bushel/acre at 17%, 400 feet of 200 bushel/acre at 22%, 200 feet of 160 bushel/acre at 18%. It is going to be an aggravating and difficult corn harvest season, but why expect different as it was a aggravating/difficult planting/spraying/fertilizer season."
On soybeans: "Beans are much more uniform as replanting doesn't necessarily affect maturity in the same field, and less fields were replanted anyway. Soybeans will probably yield above-average also, but I don't think as much above-average as expected based on foliage. Soybean plant/leaves look good, but that doesn't necessarily relate to yield. The three to four weeks of rainy/cloudy weather at the end of July, beginning of August coincided with much of soybean flowering. The cloudy weather led to reduced pod set, which reduces yield potential. We have above-average soybean foliage, but last time I checked the granaries weren't buying soybean leaves and stems."
WATER DAMAGE: Floodwaters rushed onto this farm outside Richland, Pa., which damaged the corn crop.
As for vegetables and other crops, it depends on who you talk to. In the Sept. 2 Crop Progress Report, Judy Behney of Adams County, in the heart of Pennsylvania's fruit belt, said this year's apple yield will be normal and no significant problems have been reported, but quality is off due to the rain.
Things to watch for
September is a busy month. Most farmers will be out harvesting crops. Two big livestock shows, All-American and KILE, will take place in Harrisburg later this month. World Dairy Expo in Madison, Wis., is next month.
Watch out for movement on the 2018 Farm Bill. The deadline to pass an on-time farm bill is the end of the month. We'll see if Congress can come up with something that both chambers can agree on and President Donald Trump will sign.
I interviewed Glenn "GT" Thompson at Ag Progress Days in August. He said that anything having to do with ag labor will have to pass outside the farm bill negotiations.
As for dairy, there are lots of ideas to fix the current pricing system and get farmers a better price. You can see more of these ideas online. I'm not holding my breath on an all-encompassing agreement to overhaul the way dairy is priced in this country, but maybe farmers and industry leaders will come up with a plan to at least move the industry forward to help improve prices.
Subscribe to receive top agriculture news
Be informed daily with these free e-newsletters
You May Also Like
---