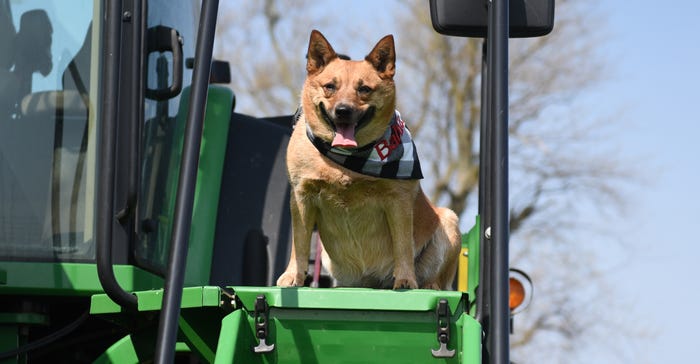 "No more dogs," said Mike Pfeiffer to his wife, Joan, after losing his hardworking, intelligent and loyal blue heeler, Beauty, in 2015. The hardship was one the Ashton, Ill., farm family didn't want to face again.
That held true for almost a year until daughter Taryn, a veterinarian, came in contact with a family who breeds and raises heelers, which are also known as Australian cattle dogs.
Taryn just happened to have a veterinary call to the farm where eight heeler puppies were, Joan says. "She tricked her dad into going to the farm because she told him no one was going to be around, and she needed some assistance with the sheep."
As any father would, Mike went to help Taryn. Joan tagged along, well aware of what was going on. Trucks and people filled the driveway as the trio pulled into the farm. At that point, Mike knew something wasn't adding up about this veterinary call.
Sure enough, the farm owners opened the barn door, and a little ball of fur — now known as Bahia, the 2022 Prairie Farmer Favorite Farm Dog — came rushing out. In that moment, Mike's determination to never have another dog quickly dissolved. Ever since, Bahia has claimed Mike as her person, always knowing his daily routine and ready to take on the day attached at his hip.
Just like the day Mike picked her out, Bahia rose to the top in this year's Prairie Farmer Favorite Farm Dog Contest, earning top honors. Bahia won based on a combination of online voting and staff selection, thanks to her farm utility, loyal companionship and photo. Joan, along with Mike, submitted Bahia's winning entry.
Mike says Bahia's herding instincts came naturally. Now, her main farm responsibility includes herding and moving sows down the aisles of the gestation barn. Bahia attentively awaits his commands and follows appropriately. Even though Bahia is small for her breed, she handles the sows easily. This comes in handy when a sow is reluctant and uncooperative.
Bahia also goes to work in the cattle pens, Joan says. She immediately learned to drop down when the cattle kick to avoid getting hurt.
Bahia displays high levels of companionship, too, serving as co-pilot in anything with wheels— tractor, truck, ATV and more. Joan says if you can find Mike, Bahia is not too far from him.
"Farmers are under a lot of stress, and Bahia helps us with that — especially Mike," she says.
The Pfeiffers view Bahia as another member of the farm family with her skills and lively personality.
The Prairie Farmer Favorite Farm Dog Contest began in 2000, and ever since, editors and judges here at Prairie Farmer have weighed the qualifications and debated the merits of talented working dogs, terrific companion animals and guardians of the farm from across Illinois. We examine photos and read essays and are reminded over and over that a good farm dog is truly a farm family's best friend.
The winners of the 2022 Prairie Farmer Favorite Farm Dog Contest are: Bahia, Miley, Bindi Sue, Jake, Thelma, Gideon, Hank, Diesel, Mack and Petey.
For Bahia's first-place win, Mike and Joan receive a $100 prize, a family farm photo shoot, and wall art featuring Bahia.
Second place goes to Miley, a 14-year-old Australian cattle dog whom staff fell in love with. Miley is dedicated to managing the cattle herd with Kevin Rose of Salem, who receives a $75 prize.
Bindi Sue earns third place for her owners, Becky and Jack Hart, Marietta, who win a $50 prize.
Honorable mentions go to entries from David and Debbie Barton and Jake, Nebo; Kristi and Rod Snodgrass and Thelma, Oregon; Scott Weber and Gideon, Geneseo; Adam Rader and Hank, Normal; Anita and David Ray and Diesel, Auburn; and Mitch and Samantha Toay, and Mack and Petey, Warren. Check out this slideshow to learn more about these dogs.
Thanks to everyone who shared photos and stories of their incredible farm dogs. Keep your cameras handy for next year's contest!
Here are the second- and third-place entries:
2nd place: Miley
As I pull my boots on every morning, Miley's tail is still wagging and she's still ready to work, even after 14 years. Rain or shine, she faithfully watches the gates as we tend cattle. As strong as her instinct is to herd, Miley can take heed of any command and stop on a dime. Whether helping us get a bull moved from one pen to another or guarding over the door of my infant daughter's bedroom, Miley is the most dedicated dog I have ever known.
In the spring of 2021, Miley was riding in the back of the pickup truck when we were rear ended. After being thrown from the back of the truck, she still found me and stayed beside me as I was making sure the other driver was OK and with sirens and all.
I've heard people say you get one great dog in a lifetime — Miley is certainly ours.
Kevin Rose, Salem, Ill.
3rd place: Bindi Sue
We went with our daughter to meet the litter of Australian shepherd puppies she had already chosen one from. We fell in love immediately with one of the other little Aussie girls and knew she was the one for us. We decided to name her after another little Aussie girl we had watched grow up on TV: Bindi Sue Irwin.
We had Bindi only a few months when she was diagnosed with a liver disorder. She had surgery and now is on a special diet and daily medicine to help filter toxins from her blood. Despite all of this, she is ready to go at 4 a.m. every day and never complains about late nights.
This is a farm dog with a passion for life and shows it. She is always ready to help her "Papa," either with tilling, planting, harvest, hauling in the semi or any other job that might come up.
Becky and Jack Hart, Marietta, Ill.
About the Author(s)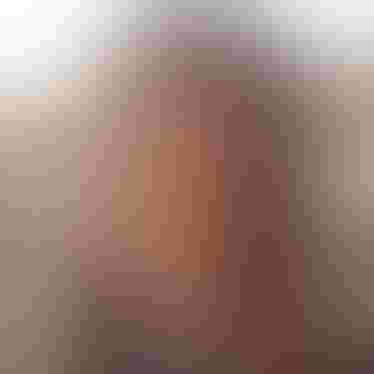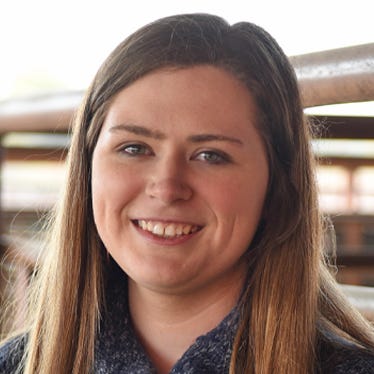 Field editor, Farm Progress
A 10th-generation agriculturist, Sierra Day grew up alongside the Angus cattle, corn and soybeans on her family's operation in Cerro Gordo, Ill. Although she spent an equal amount in farm machinery as she did in the cattle barn as a child, Day developed a bigger passion for the cattle side of the things.
An active member of organizations such as 4-H, FFA and the National Junior Angus Association, she was able to show Angus cattle on the local, state and national levels while participating in contests and leadership opportunities that were presented through these programs.
As Day got older, she began to understand the importance of transitioning from a member to a mentor for other youth in the industry. Thus, her professional and career focus is centered around educating agriculture producers and youth to aid in prospering the agriculture industry.
In 2018, she received her associate degree from Lake Land College, where her time was spent as an active member in clubs such as Ag Transfer club and PAS. A December 2020 graduate of Kansas State University in Animal Sciences & Industry and Agricultural Communications & Journalism, Day was active in Block & Bridle and Agriculture Communicators of Tomorrow, while also serving as a communications student worker in the animal science department.
Day currently resides back home where she owns and operates Day Cattle Farm with her younger brother, Chayton. The duo strives to raise functional cattle that are show ring quality and a solid foundation for building anyone's herd.
Subscribe to receive top agriculture news
Be informed daily with these free e-newsletters
You May Also Like
---