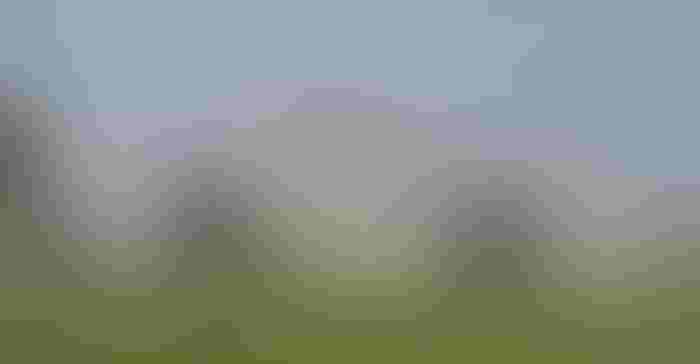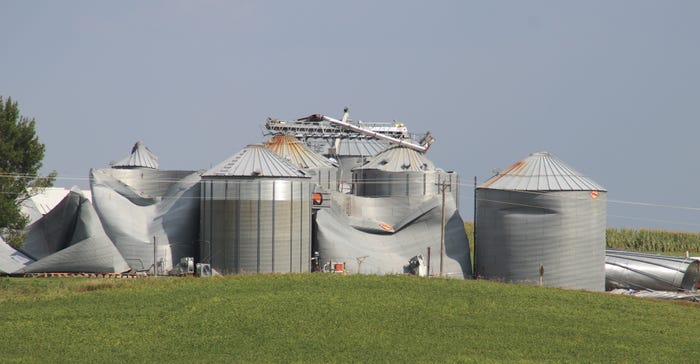 When a derecho, with top wind speeds of 106 mph, struck Mann Family Farms northwest of Marshalltown, Iowa, just over two years ago, it completely demolished their entire grain storage complex. The site — which included 10 grain bins, two 92-foot grain legs, scale house, aerator, fans and unloading auger — was reduced to a pile of crumpled, torn steel.
"At first glance, it was overpowering to comprehend that 40 years of detailed planning and work, which cost about $1.3 million, had been knocked down in 30 minutes," says Glen Mann, who farms with his son, Bennett; his younger brother, Duane Mann; and Duane's three sons, Derek, Devan and Decker.
"Driving up to the site, my heart just sank. What do we do now?" recalls Decker, the youngest team member. "Standing there facing all that rubble, I flashed back to childhood memories of sweeping grain around those bins and playing farm games with my older brothers. Someday, if I'm fortunate to have any children, I will have them do a little cleaning with a broom so they know what my chores also once were."
Besides the structural damage, the wind also created other headaches for this enterprise. The family had to disk nearly 800 acres of corn because it was unsalvageable, harvest the remaining 1,100 acres and then find available storage locations in the surrounding area during the fall. However, the most enormous challenge was implementing a game plan to rebuild — and be fully operational — in 11 months.
"We actually considered not rebuilding and delivering each year's harvest to Mid-Iowa Co-op sites," Duane says. "However, that option meant storage costs would occur annually for the farm operation's life span. Everyone agreed starting over offered flexibility, and we calculated a newly designed setup would probably pay for itself in 15 years."
Taking it a day at a time
Fortunately, the family's policy with Farm Bureau Insurance, Des Moines, would cover up to 75% of the damages for the bins, legs and dryer. Two other unique clauses also helped simplify the process. These included debris removal (a certain percentage of the total value of the site); and a farm interruption payment, which helped the Manns cover freight and storage for up to 100,000 bushels in other distant locations during the harvest season.
Once the insurance claims were settled, the next step was to push over, load and haul all the steel away. Digging up and removing the concrete was completed in four days. As the layout and design for reconstruction began to take shape, the Manns learned it would not be possible to use the same site. The height of the new grain legs would extend 43 feet higher and place them in line of the landing flight zone for the local airport less than a mile away.
So, on March 22, 2021, crawlers began moving dirt and shaping the foundation 1,000 feet directly south of the old storage site. After pouring concrete, the two bins were finished by May 1, the dryer was in place on June 15 and the two legs went up a few days later. All the remaining equipment was delivered by July 15. The only hiccup was a shortage of bolts, which delayed putting everything together for another three weeks. When the combines rolled on Oct. 7, the shiny new storage complex was completed and fully operational.
Advanced technology
To handle the Manns' soybean and corn crops, the new setup features two 180,000-bushel Sukup bins; a 60,000-bushel holding bin; a 4,500-bushel Sukup mixed-flow dryer that removes five moisture points every hour; and dry and wet legs, both 135 feet tall, inside a 16-by-16-foot tower. Semis are now able to dump both hoppers, totaling 1,000 bushels in five minutes, without moving the truck. For any extra grain overflow. there is also an additional dumpsite with a 50-bushel pit, plus an overhead 3,000-bushel holding bin.
 "To handle grain more efficiently, we decided to rely on a conveyer system with paddles," Glen notes. "Also included in the bin site is a 38-by-90-foot structure with a 17-by-32-foot electrical panel, touch screen and an office featuring a controlled temperature."
Looking back, the storm may have been a blessing in disguise, because the new setup offers greater simplicity. The Manns had outgrown the old site and sometimes were not able to operate 24/7. Now the wet bin is four times larger, which brings greater flexibility as yields continue their upward trend due to improved crop genetics.
Racing the clock
Several helping hands played a major role in getting up to speed while working within a tight time frame. These folks included: Jerry Wille, lead engineer from Ames, Construct in Marshalltown; Ames, Zoske Electrical Service in Iowa Falls, who were at Mann Family Farms nearly every day; John and Mike Lancaster of Central Iowa Fabrications in Alden; and Jed's Construction from Elma.
Donald Mann, the father of Glen and Duane. started his farming operation in 1956 with 120 acres. Today the family enterprise raises around 3,000 acres of corn, plus an additional 1,500 acres of soybeans.  
"When we started constructing the storage site in 1979, our objective was to upgrade and add new technology as it became available every year. Overall, the additions managed to keep pace even as crop yields continued to grow," Glen says. "While the storm was like a punch in the gut, everyone brought a strong work ethic to help get back on track and achieve a normal flow like before.
"The entire experience seems rather ironic now when I vividly recall a comment Dad made one time. If anything ever happens to hit all this maze of steel, it will be one giant mess," he adds. "In retrospect, I'm glad he never witnessed what happened because of all the time, trials and overall effort required to erect that facility."
Persinger writes from Wisconsin.
Subscribe to receive top agriculture news
Be informed daily with these free e-newsletters
You May Also Like
---