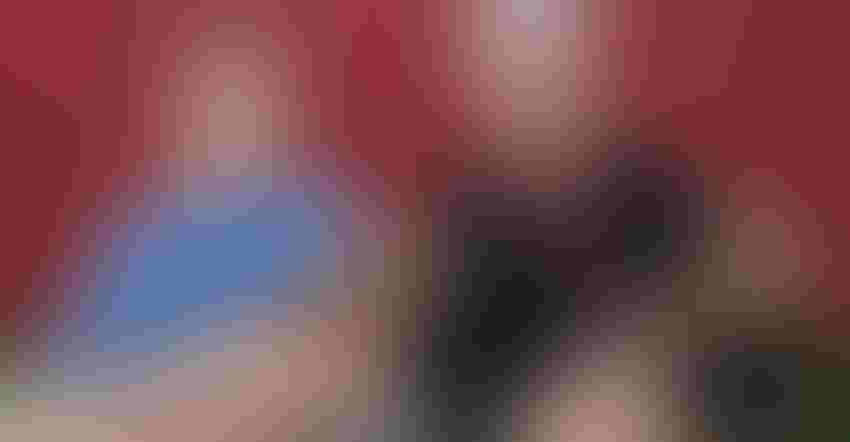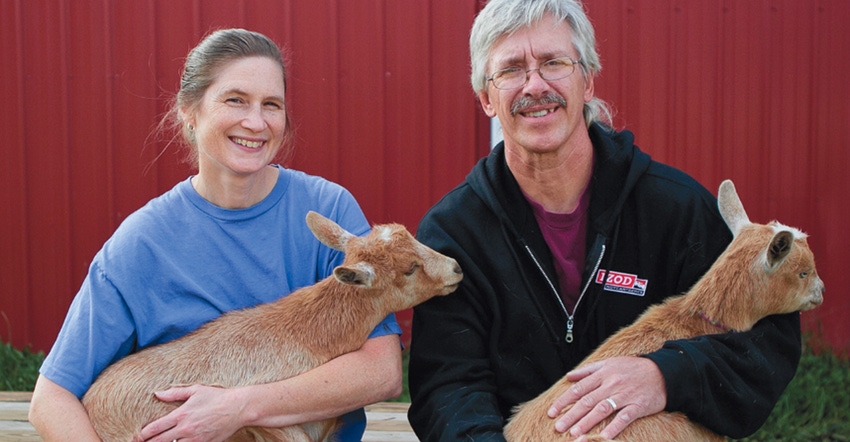 LOVING THEIR GOATS: Kristy Kikly and Mike Hoopengardner no longer milk goats or produce award-winning cheeses, but they still keep and care for goats.
Courtesy of Mike Hoopengardner
It's been 11 years since Mike Hoopengardner and his wife, Kristy Kikly, milked their first goat commercially and made their initial batch of goat cheese at their 57-acre farm in Spiceland, Ind. Kikly, a research scientist at Eli Lilly, and Hoopengardner, a stained-glass craftsman, officially created Redbud Farms and Caprini Creamery in 2011.
They were self-taught, building their operation themselves with no prior farming experience. But they grew from a small startup to a full-time operation, becoming a staple in the Indianapolis area with a variety of championship cheeses, including fresh chevre and feta. About a year ago, the couple milked their last goat and sold their recipes. What happened in those 11 years? What advice do they have for small-farm owners just starting out? Where are they now?
Running a small farm
Hoopengardner acknowledges that they wouldn't have been successful without a core group of small-farm and diversified-ag-friendly resources, including Farm Credit Mid-America, the Environmental Quality Incentives Program through USDA, Purdue Extension and the Indiana Board of Animal Health. They also credit Indiana Farm Bureau, which helped inform them about diversified ag policy.
"We used all our resources," Hoopengardner says. "It's very cool to have all these people and knowledge make us what we are today."
Besides selling cheeses at farmers markets, a key part of their success was selling wholesale directly to restaurants and retailers. Their cheeses ended up in specialty grocery stores and well-known Indianapolis restaurants such as St. Elmo's.
Even during the pandemic, the couple jumped into a new opportunity. They were an original vendor in Market Wagon, an online retail marketplace.
"Online sales saved us during the pandemic," Hoopengardner says. "Farmers need to maximize their options when it comes to selling their products. Diversification gave us so much flexibility."
Saying goodbye
In the spring of 2021, Hoopengardner and Kikly could no longer find labor. They couldn't offer competitive benefits. They were doing well, but they had to decide if they could sustain the workload.
Sirocco Ridge in Henryville, Ind., was already raising goats and making cheese. When they approached Hoopengardner and Kikly about taking over the business and using their recipes, it was a perfect fit.
"It was bittersweet, but mainly just a relief," Hoopengardner says. "We felt confident it was the right thing to do."
Goats are still on the farm. Meanwhile, the couple discuss what they could do next.
"That's the exciting part!" Hoopengardner says. "We just brainstorm. We started a small vermicomposting area where we're using an organic form of fertilizer produced by worms. We're also having conversations about growing and processing fruits and vegetables."
They still share what they've learned with other small farmers. As Indiana Farm Bureau members, they participated in the American Farm Bureau's Issue Advisory Committee, discussing food safety on the national level. Hoopengardner also serves on INFB's diversified ag policy advisory group and 2023 farm bill task force, and on Purdue's Indiana Small Farm Conference Committee.
"Diversified ag is the foundation for small farming," he says. "There needs to be opportunities for young people to try out specialty crops, and we need to continue to create policies that are going to help them do just that."
Baker is public relations manager-brand for Indiana Farm Bureau Inc. She writes from Indianapolis.
Subscribe to receive top agriculture news
Be informed daily with these free e-newsletters
You May Also Like
---