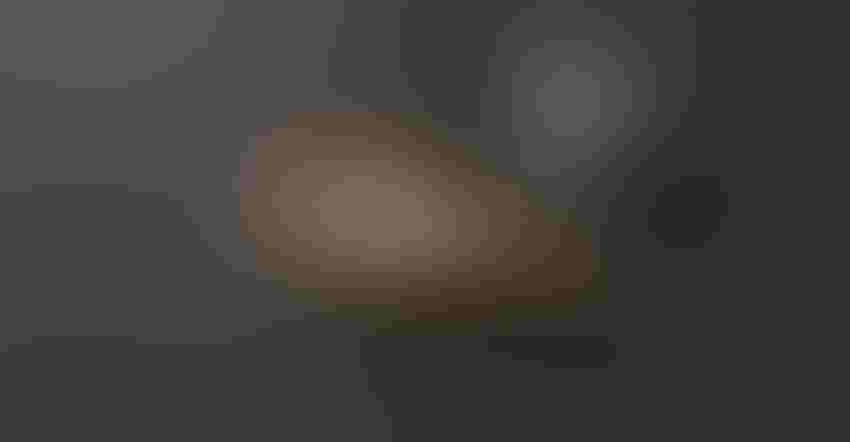 WALL OF HONOR: The boots of Welch, Minn., dairy farmer Conley Tilderquist, who passed away in 1999, are part of a special display at the Red Wing Shoe Co. store in Red Wing, Minn.
Courtesy of Red Wing Shoes
The well-worn boots of Conley Tilderquist, a Welch, Minn., dairy farmer who went from farming with horses to milking cows in the area's first milking parlor, have a place of honor these days.
They no longer hang in the 1905 barn. Instead, thanks to his grandson, Eric Tilderquist and Eric's wife, Amanda, the boots are on display in the main store of the Red Wing Shoe Co. in Red Wing, Minn.

BRAND-LOYAL: Eric Tilderquist, a sixth-generation farmer from Welch, Minn., continues the family tradition of wearing Red Wing boots.
A small museum on the store's second floor is dedicated to Red Wing Shoes' history. It also features a new Wall of Honor. Last summer, Red Wing asked for customer stories and received nearly 500 submissions. Thirty-two were selected, along with their boots, for a permanent wall display that was unveiled in March. The range of the honorees' stories is impressive, from surviving job-site accidents, to repairing public services during dangerous storms, to simply getting up each morning for decades to do the same job.
Dave Schneider, Red Wing Shoes chief marketing officer, said in a news release that the company receives thousands of notes each year from workers sharing their stories about their boots, so it decided to create the honor wall for them.
"Our customers tell us their Red Wing boots are like tools in their tool belt," he said. "We are touched by the amount of love our brand receives, and it felt right to provide a space where their stories can live forever, paying respect to our customers' boots and the remarkable work they have accomplished in their communities."
Amanda Tilderquist learned about Red Wing Shoes' request for stories from a friend who works there. Unbeknownst to her husband, Amanda submitted a poem she had written that talked about her husband's boots, which went like this:
          These are the boots of a farmer.       
          Laced up before the sun rises and peeled achingly off
          when the moon's high above the trees.
          They are worn during planting in spring,
          the sweltering heat of summer,
          the long hours of harvest in the fall
          and the piercing cold of winter.
          These boots carry an optimistic man. 
          Milk prices are low, rain gauge is always empty
          and machinery breaks down.
          With a shrug of his shoulders and a smile on his face,
          he knows his faith in God is much stronger
          than his fear could ever be.
          These boots walk miles to find and fix broken fence.
          They carry newborn calves through the barn to safety
          and comfort sick animals while trying desperately to save them.
          Only after the farm sleeps and all is well,
          will they walk home and rest ...
          only to do it all over again in a few short hours.
          These boots walk along many smaller ones
          as they happily follow in their footsteps.
          The mark they leave in the dirt doesn't begin
          to compare with the imprint they leave on their hearts.
          His sons want to be just like him someday ...
          and wear the hardworking Red Wing boots of a farmer.
Amanda's poem made the final cut for the Wall of Honor, and a company rep called to tell her so. She also was told Eric's boots were needed for the museum display and that he would get a new pair from the store to replace them. However, Eric recalled the boots of his grandfather Conley Tilderquist, who passed away in 1999, were still around, hanging up in the old barn. He offered those for the museum and Red Wing accepted.
"My family never threw anything away," Eric says. "I knew we had an old pair of Red Wing boots around here."
Eric, a sixth-generation dairy farmer, milks 115 Holsteins with his uncle, Paul Tilderquist. They also farm 200 acres, raising alfalfa and corn. He and wife Amanda have four children — ages 10, 9, 8 and 4.
Their 10-year-old is now a satisfied customer of Red Wing Shoes, too. When the Tilderquists went to the Red Wing store last fall, they saw a pair that were on sale, drastically marked down.
"My son had been harassing me about getting him a pair of boots and when I saw those on sale, I couldn't pass them up," Eric says, adding, "He wears them to school every day. He wants to be like Dad."
And the free pair promised by the show company in exchange for the storied pair?
"The store didn't have my size [in the style I wanted], so they gave Amanda a free pair of boots," Eric says. Those are currently her "town boots."
To read the stories of all the 2018 inductees on the Wall of Honor, visit Red Wing Wall of Honor.
Submissions are open for the 2019 Wall of Honor at in.redwingshoes.com.
Subscribe to receive top agriculture news
Be informed daily with these free e-newsletters
You May Also Like
---