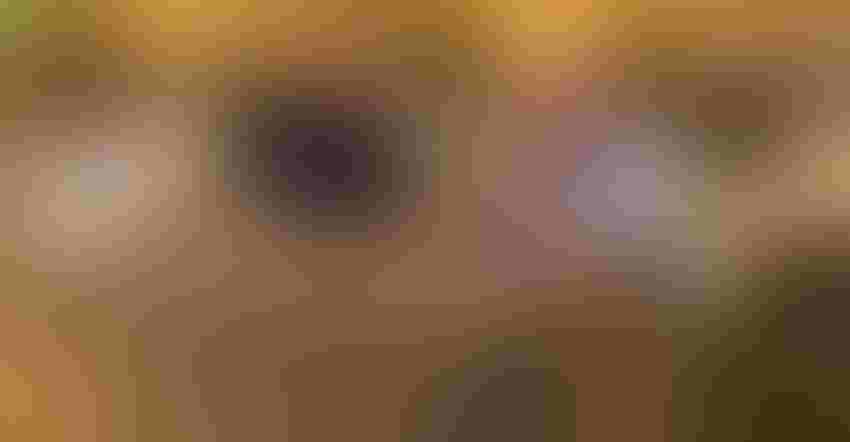 As pandemic restrictions are lifted; agricultural associations are starting to have live meetings again. One of the first was the Almond Alliance of California, which met in Las Vegas, Nev. in late-May.
Todd Fitchette
As U.S. agricultural exporters report sales losses of about 22% because of port congestion, delays, and cancellations, and the excessive costs resulting from those troubles, groups like the Almond Alliance of California (AAC) are partnering with others to achieve short- and long-term solutions to the matter.
At its first live meeting since the pandemic began more than a year ago, Almond Alliance members heard in Las Vegas recently of efforts to ease the constraints U.S. agricultural exporters – specifically almond handlers and growers – have seen.
Those constraints have included shipping delays borne from decisions by maritime shipping companies to prioritize the movement of empty shipping containers back to Asia, rather than fill them with agricultural goods.
AAC President Elaine Trevino said the association met with the Federal Maritime Commission, members of the Biden administration and congressional representatives to seek solutions. Out of those discussions, Trevino said there is little the U.S. government can do to punish the ocean carriers for their practices to prioritize empty shipping containers for return to Asia.
One recommendation sure to gain pushback from the labor unions and their political supporters is the suggestion that ports operate 24-hours a day, seven days a week to maximize throughput.
"We know that's a union issue, but it's an important one," Trevino said. "It's time we have that conversation."
Related: Ag legislators discuss persistent port congestion issues
Other proposed solutions to ease port congestion and agricultural export challenges include amending the Ocean Shipping Reform Act of 1998, requiring a cap on the number of empty containers that can be returned to foreign ports, and to expand infrastructure at U.S. ports.
Trevino reports that one maritime shipping company recently ordered 158,000 new shipping containers in a move seen by some as positive.
Among other issues discussed at the Alliance's 39th annual convention May 24-27 in Las Vegas:
California policy issues
Trevino said the AAC is working a host of issues within the California Legislature to include water storage and infrastructure, alternatives to open agricultural burning, better funding for the University of California's Cooperative Extension programs, and pollinator health issues.
Among these is a proposal the Alliance opposes that would classify honeybees under the California Endangered Species Act. The California Superior Court has already ruled that CESA does not cover insects and that honeybees cannot be classified as fish.
Related: Regs will hamper recovery after ports logjam recedes
The Alliance is working with the California Pollinator Coalition, Pollinator Partnership, California Department of Food and Agriculture, and the Almond Board of California to boost habitat for pollinators on farms.
Proposition 65
The almond industry is also pushing back on a move by the California Office of Environmental Health Hazard Assessment (OEHHA) to regulate acrylamide levels in almonds under Prop. 65.
Acrylamide is a naturally forming substance resulting from baking or roasting almonds. Because acrylamide is on OEHHA's list of Prop. 65 chemicals, OEHHA is looking to address this in almonds while the almond industry complains that achieving the state's current parts-per-billion standard for acrylamide is not feasible in various almond products.
Boosting hull demand
Joe Oronato, president of Presidio Trade Group, a consultant to the AAC, painted a general rosy picture for a key byproduct of almond production – the soft hull that has traditionally gone to dairies for feed. As the volume of almonds produced rose in California and the dairy cow population remained generally flat, hull prices sank. What was good for the dairy producer was not for the almond producer.
The U.S. market for almond hulls is limited to that single demand – dairies. High competition within the sector for quality silage and other fibers is a limitation on domestic marketing efforts, Oronato says. Moreover, logistics can only support a cost of about $40 per ton to deliver hulls to the customer.
Oronato said efforts to move hulls into China and other Asian markets is gaining traction and could be more lucrative to almond producers. It appears that hulls will not merely go into China's dairy shed, which houses about nine million animals.
Exponentially larger, and perhaps more lucrative, is the non-ruminant market in China. Tests are already under way to ship ground hulls into those markets.
"We think that within five years the Asian markets will impact 10-20% of your hull production, or about a half a million tons per year," Oronato said.
Subscribe to receive top agriculture news
Be informed daily with these free e-newsletters
You May Also Like
---