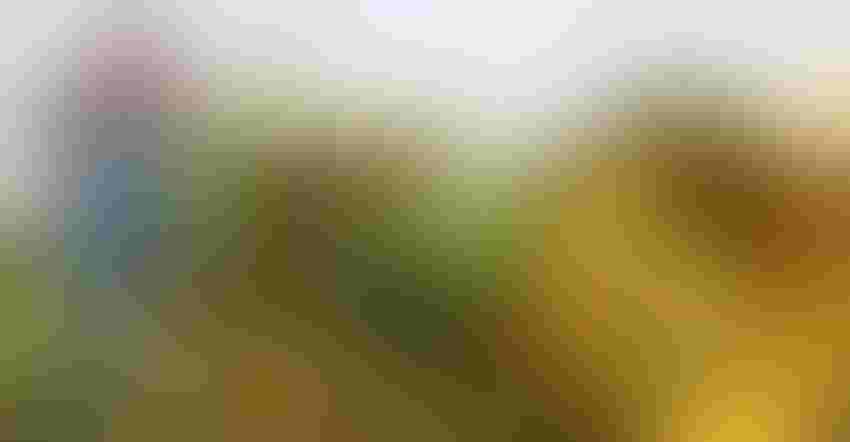 SHOW TRACTOR: As a member of the Chippewa Valley Model and Antique Club, Rodney Dufur likes to take his GP John Deere to old-time tractor pulls and other local pioneer days.
Harlen Persinger
When it comes to bringing old tractors back to life, Rodney Dufur's pride and joy is a 1938 model GP John Deere. Originally from Queen City, Mo., Dufur now resides in Eau Claire, Wis. His father, Lloyd, who farmed 160 acres of corn and soybeans in the Show-Me State, handled everyday chores with model B, model 50 and model A John Deere tractors.
"I also follow the green line, and in 1963 I convinced Dad to purchase the GP row crop tractor strictly as a showpiece, for a $100 bill," Dufur says. "Today, the value of that machine, serial number 209147, is around $5,000."
When Dufur got the tractor, it was in total disrepair and needed a lot of work. All of the tires were rotted, and the motor was stuck. After being sandblasted and repainted, it was overhauled and refitted with steel wheels and rim extensions. When the GP was moved to Wisconsin in 1969, Dufur bought an old house and cut out the floor joists and original sidewalls. He added some gravel on the floor and stored the machine there. In 1980, he built a new home, and now the GP sits in the corner of the basement.
This two-cylinder tractor was manufactured in Waterloo, Iowa, from 1928 to 1938. There were 30,535 units built, with a charged price of $1,200 in 1935. The GP was originally designated the model C, but the name was changed due to a similarity to the existing D; plus the General Purpose name was a marketing ploy to keep it in line with International's new Farmall. This model Deere was designed with a fixed front axle straddling three rows.
Several versions were made: The wide-tread GPWT had a 76-inch rear axle and a tricycle front; the GP-P was a modified GPWT with a 68-inch rear axle for use in potato fields; and the GPO was lowered and had fenders for orchard work. This machine was best-suited to handle a three-bottom plow and other tillage chores.
As a member of the Chippewa Valley Model and Antique Club, Dufur likes to take his GP to old-time tractor pulls and other local pioneer days. He and his father have an inventory of 17 John Deere tractors, ranging from a 1928 model B to a 1959 model 730 diesel.
"Although the GP rides like a lumber wagon, this is my favorite John Deere model because it's the only one that runs on steel wheels. While running, this machine exhibits a different note from the exhaust pipe versus the standard Deere 'pop,'" he adds. "The first time I climbed on the seat, I fell in love with it. Besides, the GP is about the best little tractor on the parade circuit."
Persinger writes from Milwaukee. To have your favorite tractor featured, email or send in a photo of yourself with your tractor, along with a 300-word write-up about the tractor, to: [email protected] or Wisconsin Agriculturist, P.O. Box 236, Brandon, WI 53919.
Subscribe to receive top agriculture news
Be informed daily with these free e-newsletters
You May Also Like
---