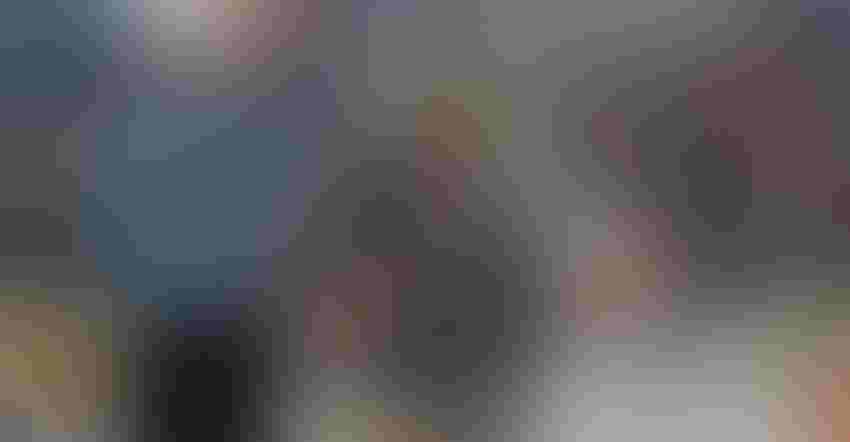 RESPECT: Shown here emceeing the Grand Champion Drive at the 2016 Illinois State Fair, RFD radio network director Rita Frazer advises students to pursue what makes them happy. And for Frazer, it's the people in the agriculture industry that make her love her job. "They're good people. It's great to be able to work in an industry where you respect and admire the people that you're working for."
By Krista Temple
Working in radio was always the goal for Rita Frazer, who grew up on a small farm in Jersey County.
"I like to talk and ask questions," she says, laughing. "And I love farmers."
Frazer, who today is director of radio for Illinois Farm Bureau's RFD Network, pursued her radio dream at Lewis and Clark Community College in Godfrey and discovered farm broadcasting, which was the perfect fit.
Her first farm broadcasting position was at WSMI in Litchfield, where she worked for 22 years. Frazer enjoyed developing close relationships with her listeners. She was able to share in their accomplishments, report on their successes in FFA and 4-H, and watch their kids grow.
"People love what they do and they're passionate about what they do, and that's contagious," says Frazer.
Today at RFD, she is responsible for management and administration of the RFD Radio Network and is an on-air personality. She still enjoys building relationships with her listeners, but acknowledges that's harder to do on the statewide network.
When Frazer began her career, she had to build credibility with her audience — something that was extra challenging as a young woman in agriculture, she says. The process took time, diligence and a lot of hard work. But she knows she was lucky to have started her career in 1990, when there were already several female broadcasters.
"I was very fortunate to have great people like Colleen Callahan and Peggy Kaye and Cindy Young who were in Illinois and working," Frazer says. "Always be thankful for the women that came before you and for the trail they blazed."
A few years ago, Frazer attended the Women Changing the Face of Agriculture conference for the first time. She was amazed to see how many students were participating. She also found it rewarding to be able to give advice to young women, just like people helped her.
One piece of advice she has for young women as they look for careers is to determine their priorities. She learned this when her daughter was born, and she had to figure out how to juggle her family life and her job.
"Amazingly, because the agriculture industry is family-oriented, I was able to juggle my home life and my family and my job," Frazer explains.
She also emphasizes the common advice of giving 100% and not being afraid to ask questions and learn. Working hard every day was what helped Frazer get to where she is now.
Finally, she advises students to pursue what makes them happy. If you do what you love every day, you don't really work. For Frazer, it's the people in the agriculture industry who make her love her job.
"They're good people," she says. "It's great to be able to work in an industry where you respect and admire the people that you're working for."
The details: Women Changing the Face of Agriculture
Women Changing the Face of Agriculture is a one-day career discovery event for young women in high school and college. This year's conference will be held March 10 on the University of Illinois campus in Urbana-Champaign. During this professional development event, students learn about different career paths from women in the agriculture industry. WCFA's goal is to cultivate interest in young women to find exciting careers in agriculture. Students can learn about ag business, ag education, agronomy, animal science/veterinary medicine, communications, engineering, environmental science, food science, ag law and policy, marketing, and natural resource conservation. This year's keynote speaker is Elzandi Oosthuizen, vice president of global geographic strategy at Monsanto Co. During breakout sessions, students will explore the campus and participate in hands-on activities with industry professionals. Group registration is available through FFA chapters, 4-H clubs and collegiate organizations. For more information, visit womenchangingthefaceofagriculture.com.
Temple is a junior in agricultural communications at the University of Illinois. She grew up on her family farm near Fulton.
Subscribe to receive top agriculture news
Be informed daily with these free e-newsletters
You May Also Like
---