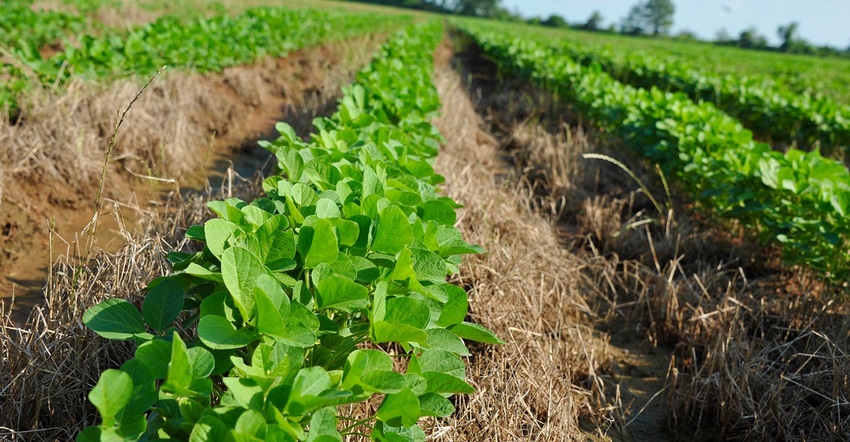 Early indications suggest that soybean growers can expect heavy worm pressure as this year's crop moves into mid-to-late season.
 
No matter the pest pressure level, soybean producers can count on the fast and lasting control of Intrepid Edge® insecticide. Two modes of action deliver proven results against looper, corn earworm, armyworm and more. 
 
While the power and consistency of Intrepid Edge will deliver quick, lasting control of your most troublesome soybean pests, protecting your crop from yield-robbing worms and loopers requires four critical steps.
 
Identify pests properly and know which pests are present.
Comprehensive scouting is critical to reducing damage by soybean looper, corn earworm and other pests that have the potential to cause substantial economic losses.
 
Treat timely based on local pest thresholds. 
In the southernmost areas of the Mid-South, corn earworm numbers were reportedly nearing threshold levels in mid-June. 
 
"Normally, our worm pressure increases as the corn crop in southern Louisiana and Mississippi is beginning to mature. Our first big flights of first- and second-generation moths seem to emerge out of the corn crop," says Eddy Cates, an independent crop consultant in Marion, Arkansas. 
 
"We usually get a bollworm flight between July 20 and the first part of August, when soybeans are at the R3 to R4 growth stage, and we are looking for quick knockdown," Cates says. "Intrepid Edge is easy on beneficials and works quickly to control lepidopteran pests such as bollworms and armyworms."

Optimal insecticide timing is critical for maximizing yield potential. During soybean flowering and pod-fill stages, defoliation of greater than 20% can substantially affect yield. 
 
Follow recommended labeled rates.
Begin treating soybeans with Intrepid Edge® insecticide at a rate of 4 to 6.4 fluid ounces per acre when threshold levels of feeding damage are met.
 
Ensure precise and adequate spray coverage with proper spray calibration.
Using properly calibrated equipment with ample water volume ensures the product being applied reaches the pest populations you want to control. Apply a minimum spray volume of 10 gallons per acre for ground application and 5 gallons per acre for aerial applications when applying Intrepid Edge.
Rely on the fast and lasting control of Intrepid Edge® insecticide to help preserve your profitability potential. Visit IntrepidEdge.Corteva.US to learn more about how to manage troublesome pests in soybeans.
 
™ ® Trademarks of Dow AgroSciences, DuPont or Pioneer, and their affiliated companies or their respective owners. Intrepid Edge is not registered for sale or use in all states. Contact your state pesticide regulatory agency to determine if a product is registered for sale or use in your state. Always read and follow label directions. © 2020 Corteva. CA14-911-031 (07/20) BR   CAAG0INTE054
 
About the Author(s)
Subscribe to receive top agriculture news
Be informed daily with these free e-newsletters
You May Also Like
---