WILLOW FARM BARN: At one time, the cow barn was renovated to include a milk house and milking parlor, among the first in the Upper Peninsula.
Editor's note: We would like to feature more barns that are still in use. Contact Jan Corey Arnett at [email protected].
Traffic whips past the white gates of Julie Frazier's Willow Farm as people, intent on their own agendas, travel to, from or through the city of Marquette on U.S. 41. To the casual passerby who takes a moment to glance through those gates, it might seem that just beyond them is a somewhat unusual mansion, rather than a barn with an unusual story.
Frazier's grandparents bought the Maynard farm in the early 1920s. The barn was built in about 1926 by the Louden Company, a name which generously appears inside the barn. Louden was well-known for its production of a range of farming implements in the early 1900s.
The main section of the barn is about 90 by 36 feet, positioned parallel with U.S. 41. At each end, a wing of about 30 by 18 feet faces the highway. One wing is used as a garage with an upstairs apartment. The other is a two-story apartment for someone who helps with horse boarding business and therapeutic riding program Frazier operates on the property. A concrete-block barn and arena sits atop a hill just west of the original barn.  
The main section of the original barn is built of tile with a concrete ceiling, an air space and then another concrete pad in place of a mow floor, making it fire resistant. But the tiles sweat so badly, Frazier says, that her grandparents had the barn lined with wood. The left side had three stalls for riding horses and four for workhorses. The right side featured 12 stanchions for Jersey milk cows. Completing the dairy area were calf pens and a bull pen.
"Grandmother chose Jerseys because they were so pretty, but their milk was also very high in butterfat," Frazier says. "When my mother inherited the place in the '50s, she switched to Guernsey, and at one time we had 40 to 50 head. We bottled our own milk and sold it around town, but often Grandma gave the milk away." Summer farm labor stayed in the wing sections of the barn.
At the time Frazier's mother took over, she made it clear that the dairy either had to be a going business or be done away with. She had the cow barn renovated to include a milk house and milking parlor, among the first in the Upper Peninsula, and installed a 200-gallon bulk tank with pasteurization equipment. A herdsman was hired to oversee the operation, and soon, a customer base of about 100 was in place.
"On an Easter morning, the herdsman said someone had forgotten to turn on the agitator to the bulk tank so we had 200 gallons of soured milk," Frazier recalls. After that, the dairy continued, but the milk was sold in bulk to a local bottling plant.
A family took over the dairy operation, but it was becoming apparent that to be competitive, a herd needed to average about 100 head. Decisions had to be made — more cattle or none at all. As the dairy operation continued, a veterinarian moved his practice into the original dairy area of the barn and created a surgical suite where the milk bottling had been done.
By 1969 the cattle were sold and all dairy operations ceased.
"People had been asking about boarding their horses, so Mother built a big metal building with a riding arena. But we lost that in 1979 when it was crushed under a heavy snowfall. We moved everything to the original barn for a time, and it kept everybody happy."
A second boarding barn has replaced the one that was lost. Together, the two buildings shelter as many as 40 horses.
Frazier explains that today, under her ownership, the business is a boarding stable first and a therapeutic riding program second. Her program is not certified, but she and her daughter are certified instructors.
"I love my barn. It's a great barn," Frazier says with a laugh, "and it attracts attention. But it looks like a toy shed in comparison to one about three times bigger, built in an identical configuration also by Louden Co. It is just north of Marquette and belonged to L.G Kaufman, a wealthy financier in the 1920s." The historic property known as Granot Loma stands on the shores of Lake Superior.
Where's this barn?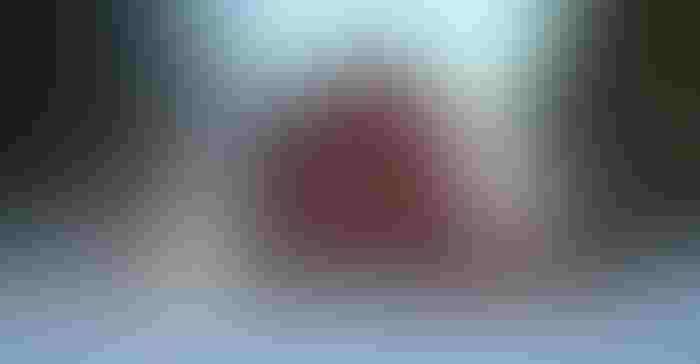 This feature highlights Michigan barns from across the state and challenges readers to identify, exactly, where they are located. Please share stories of its structure, dates, ownership and more, including its use. Email your comments to Jan Corey Arnett, [email protected], who will compile them with the unveiling of its owner and location in a future story.
Corey Arnett writes from Battle Creek.
Subscribe to receive top agriculture news
Be informed daily with these free e-newsletters
You May Also Like
---