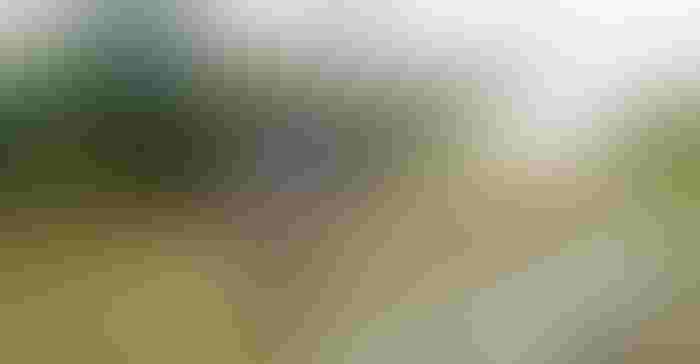 GOING BIG FOR CHARITY: Beyond those John Deere Busch Light beer cans, the collaboration between the two companies resulted in a giant game of Cornfield Cornhole in Wisconsin. Yes that's a catapult used to rocked giant bean bags into the board.Harlan Persinger
The crowd gathered near Big Bend, Wis., on May 21 came for a game of cornhole, or rather the "mother of all" corn hole games. Two blue-chip companies, John Deere and Anheuser-Busch LLC joined forces in a specialized program to help support U.S. farmers that have experienced hardship.
The kickoff for the program which includes new Busch Light "For the Farmer" cans with a John Deere look, was a giant game of cornhole.
As for those cans? They're available at participating retailers from May 16 –July 3 in 24 or 30 pack cans.
The Big Bend event involved a John Deere 8RX tractor and ground-posted slingshot used to catapult super-sized bean bags into an oversized cornhole board. The general public could reserve tickets to also play traditional cornhole, socialize with their friends and for some, enjoy an adult beverage. And more than 500 showed up for the fun.
The event also netted Farm Rescue $200,000 for their work in supporting farmers in need.
Related: Beer maker shows farmer support
"The 'For the Farmers' cans mark a legendary union of two iconic brands with a shared passion for supporting farmers and the great Heartlands of America," says Krystyn Stowe, Head of Marketing, Busch Family Brands at Anheuser-Busch.
Busch Light has partnered with Farm Rescue since 2019 and contributed more than $750,000 in donations to date. Farm Rescue was founded in 2005 and has helped more than 850 families since its inception. The organization's mission is to help farmers and ranchers who have experienced a major illness or natural disaster by providing the necessary equipment and volunteer labor to perform time-sensitive services.
Supporting a program
Funding supports Farm Rescue general operations, including fuel and service for the organization's equipment and vehicle fleet, as well as food and lodging for its many volunteers. Livestock feeding assistance is also available to ranchers. Much of the nonprofit's field equipment is donated by John Deere and support comes from local dealers.
Farm Rescue helps bring in the necessary equipment and a volunteer work force to plant, hay or harvest the crop. The organization offers its services to farm and ranch families in North Dakota, South Dakota, Minnesota, Montana, Iowa, Nebraska and Kansas.
"Farm Rescue is honored to be the beneficiary of this incredible joint effort between Busch Light and John Deere," says Bill Gross, Founder & President of Farm Rescue. "Both companies have been incredible supporters of our mission, and this latest partnership truly solidifies their commitment to American agriculture. Although farmers only represent one percent of the total population, they have a big responsibility in feeding the world. With the money raised through this one-of-a-kind promotion, Farm Rescue will be able to extend a helping hand to many more farm families in a crisis."
"This collaboration presents an exciting, valuable opportunity to celebrate farmers, the agriculture industry as a whole and the important work of Farm Rescue," notes Jenny Ose, Director of Marketing, Agriculture and Turf, John Deere. "Farm Rescue gives families a chance to continue their livelihood during a critical time of need by providing the necessary equipment and manpower to get the job done. John Deere is committed to ensuring all farmers have access to the vital resources they need to sustain their farms for generations to come."
Check out the slide show of the big event – and we do mean big. The super-sized corn hole board drew plenty of attention with more than 500 on hand to watch the festivities.
Subscribe to receive top agriculture news
Be informed daily with these free e-newsletters
You May Also Like
---