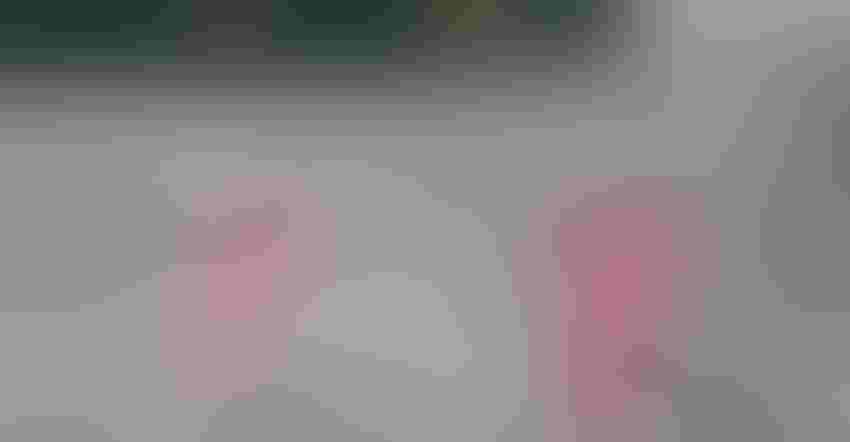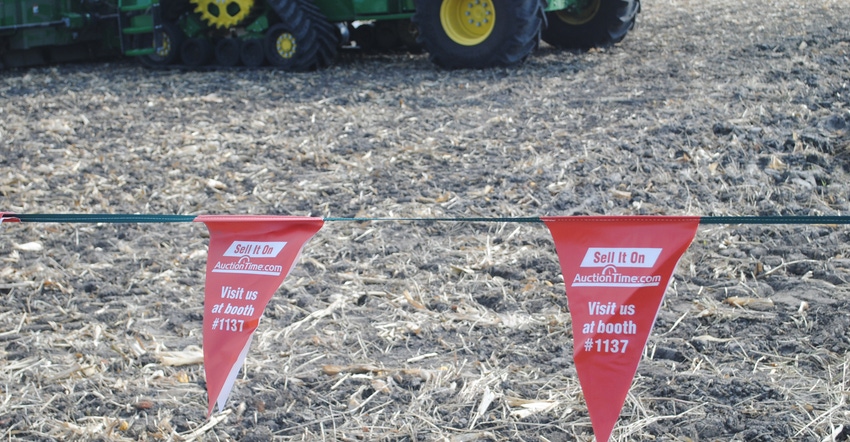 KEEPING IT SAFE: Colby Canvas produces safety pennants that are used to keep crowds at a safe distance during demonstrations at HHD and Farm Progress Show.
Curt Arens
Steve Molstad of Colby Canvas Co. in Colby, Kan., hasn't attended every Husker Harvest Days since the beginning, but he has been there through most shows over the past 30 years.
For the past three years, Colby Canvas has produced the safety ropes and pennants that keep people safe during HHD and Farm Progress Show harvest demonstrations. In addition, the company produces the impressive Avenue of Flags along Flag Road at the main visitor entrance to HHD.
"Our company has been in business since 1927, making tarps and covers for semitrailers, grain carts, grain bagger hoppers and corn planters," Molstad says. "We fabricate dairy barn sidewalls that roll up and down and special padded windshield protectors for tractors, combines and sprayers for transport to different locations, preventing glass windshields on the cabs from breakage."
The company makes pennant strings — including those used at HHD demonstrations — from heavy vinyl fabric attached to high-tensile nylon webbing, so it can be stretched long distances with no worries about breaking. "We usually fabricate the pennant strings in lengths of 1,550 feet," Molstad says. "They can be tied together for long stretches of parking lots or harvesting exhibitions."
The strings of pennants are used as portable safety ropes to keep crowds a safe distance from working machinery, moved in unison by utility vehicles as the harvest demonstrations progress across the field.
Advertisers change each year, so new pennants need to be cut and printed annually to reflect the new advertisers. The company has produced custom flags with specific logos for both HHD and Farm Progress Show, along with the Avenue of Flags at HHD.
"The Avenue of Flags at the entrance to the showgrounds was a great addition," Molstad says. "It is impressive to see at 8 a.m. when visitors are walking along Flag Road to the show, and the national anthem is played over the public address system. People immediately stop, remove their ball caps and place them over their heart, with some singing. Everyone is on the same page for that moment."
Molstad says he's been coming to HHD as an exhibitor long enough to remember all kinds of happenings and events over the years.
"My No. 1 shocking memory at HHD was on Sept. 11, 2001," he recalls. "We were quite busy with the crowd at HHD until 5 p.m.," he says. "This was before cellphone service, and we had no knowledge of the tragic events that had taken place earlier in the day at the Twin Towers in New York City, in Pennsylvania and at the Pentagon in Washington, D.C."
When he arrived back in Grand Island, Neb., that evening, there were long lines at fuel stations, which he thought was unusual.
"Until arriving at my hotel and turning on the television, I had no idea what had happened," Molstad says. "I actually brought a couple of salespersons from other companies back to Colby, Kan., with me, as they had flown into Grand Island. Because all flights were grounded after the attacks, they were stranded. They had to board a Greyhound bus and went west to meet family members who were driving in to meet them."
Learn more about Colby Canvas and its unique product line at colbycanvas.com.
Subscribe to receive top agriculture news
Be informed daily with these free e-newsletters
You May Also Like
---