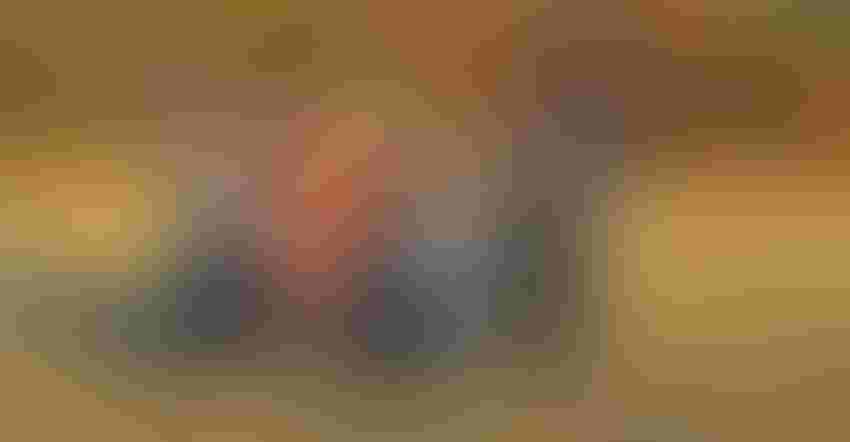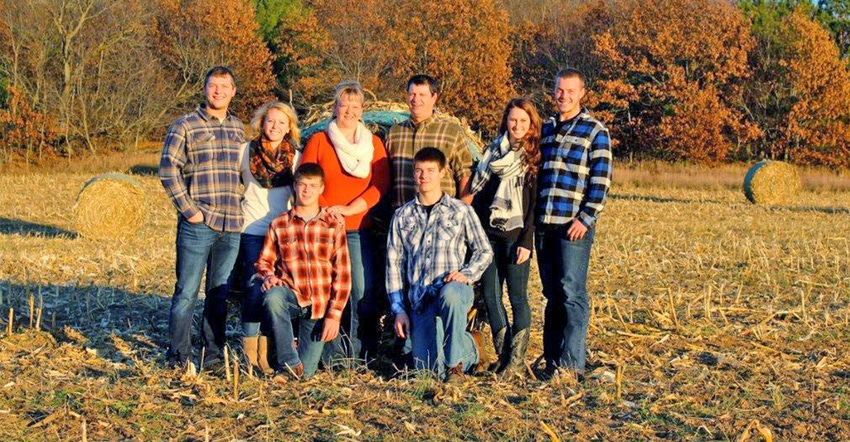 FAMILY FARM: The Kostka family includes (back, left) Cole Kostka and wife Emma, Jeannie and Barry Kostka, Leeza Norby (Cody's girlfriend who works on the farm) and Cody Kostka. In front are Bret and Brock Kostka.
Moving from producing organic milk to bottling it and manufacturing cheese and ice cream hasn't been exactly seamless for the Kostka family of Osseo, Wis. They've been through "the school of hard knocks," according to Barry Kostka, the family spokesman and manager of Castle Rock Organic Farms.
The family had gone through the three-year transition to organic production by 2000 and in 2003 began producing organic milk.
"A couple years later we started the plant," Barry says. "We went 12 years with our own cows, and in 2017, I went into management and we sold the cows."
Currently the Kostkas take milk from six small dairy farms that milk from 10 to 80 cows.
"We have about 135 cows total," Barry says.
On-farm milk plant
In their new on-farm plant, the family pasteurizes whole, 2%, skim and chocolate milk and cream; and manufactures cheddar, blue and smoky Joe cheese, plus ice cream in several flavors.
Aside from managing the business, Barry also farms 800 organic acres.
"You gotta mix things up," he says with a grin. So, he pastures grazing young stock and raises corn, peas, rye and hay to supply local farms, including those that supply milk for the plant.
Barry's brother Jason is the plant manager and the licensed cheesemaker. Barry and two others are certified for pasteurization. He credits his parents, Wayne and Carla, with the decision-making that led to the move to organics. They came back from a conference "with their minds made up, and we switched the next year," Barry says.
The move to plant development, likewise, "was Mom and Dad and a brother and friends," he says. "They got to talking. I suppose it took probably a year to a year and a half to get up and running. Marketing and getting the product out there, that's what takes time — people to open sales."
The goal has been to bring in 10 small farms, and they're getting close, Barry says. "There's room to grow. We want to grow and move more product."
His parents still help, as do his wife, Jeannie, and four sons, Cole, Cody, Brock and Bret, though Jeannie also works from home and two older sons have off-farm jobs.
They market their Castle Rock brand in western Wisconsin and Minneapolis-St. Paul, distribute in eastern Wisconsin through Vern's Cheese of Chilton, and operate a farm store seven days a week from 8 a.m. to 8 p.m. There are six full-time and eight part-time employees.

MAKING DELIVERIES: Barry Kostka, owner of Castle Rock Organic Farms near Osseo, Wis., is pictured with his delivery truck.
"We ship all over the nation, mostly internet sales," Barry says. "We've had orders as far away as Australia." The farm and dairy are online at castlerockfarms.net and on Facebook.
The dairy plant is in a limited liability company arrangement, while Barry and Jeannie partner with Wayne and Carla in the farming operation.
Farm and plant tours
The Kostkas do farm and plant tours, are looked up to as organic leaders and are basically self-taught.
"We hooked up with people who had been doing it a long time already," Barry says. "Went to a lot of conferences. You never stop learning. We try other things that others have that may work for us and not the other guy — and vice versa.
"We struggle just like other farms. You've got to love it to do it. Anyone who grew up on a farm, they didn't do it for the money, they do it for the love of it. I'm proud to be a farmer."
Buchholz writes from Fond du Lac, Wis. This is the second story in a three-part series about organic agriculture in Wisconsin.
Subscribe to receive top agriculture news
Be informed daily with these free e-newsletters
You May Also Like
---