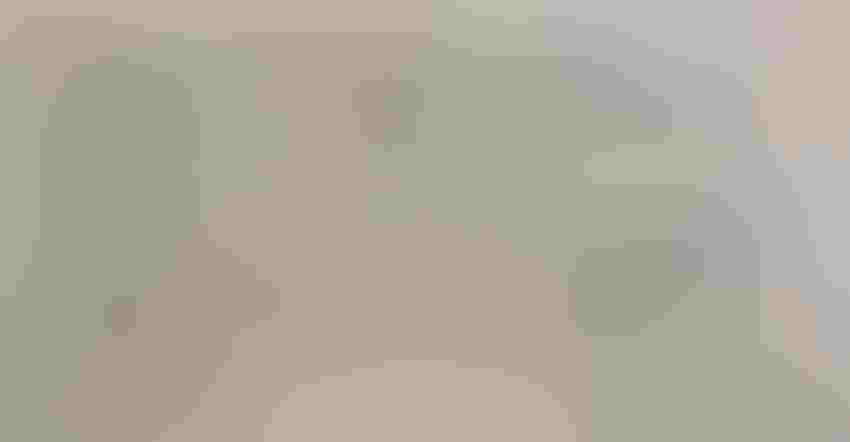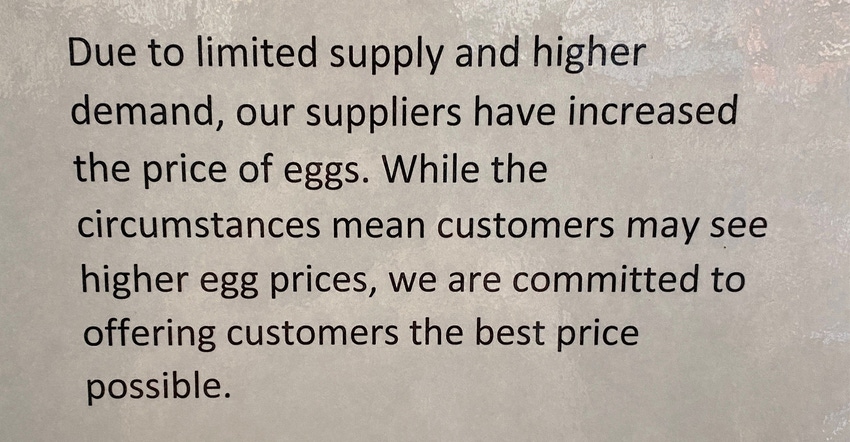 EGG PRICES: Signs hang in many Iowa grocery stores explaining to consumers why the prices of eggs and some poultry products have been affected recently.
Jennifer Carrico
Highly pathogenic avian influenza has been spreading across the United States in the past couple of months, following the path of migratory birds as they fly north. As of April 20, the USDA Animal and Plant Health Inspection Service has confirmed the virus in 29 states, affecting 28.21 million birds. While this is not a health threat to humans who are eating poultry and eggs, it has raised grocery store prices and affected more than the poultry business.
"Grocery stores are now seeing the prices impacted from HPAI through the supply chain," Chad Hart, Iowa State University Extension agricultural economist, says. "Eggs versus other foods are more impacted by this type of industry crisis, because eggs are not a processed food. If we have a change in corn or wheat, for example, you won't see much change in the cost of cornflakes or bread."
Some price changes could be seen in turkey meat due to HPAI in several commercial turkey flocks, but Hart says it hasn't been seen as much in chicken flocks producing for meat. When looking back and comparing this disease outbreak to the large HPAI outbreak in 2015, he says the timing and relative chain of events is very similar. "Thankfully, with this year's outbreak, the health officials have moved very quickly, and it looks like we could have flocks restocked faster," Hart says.
Iowa's egg industry
Maro Ibarburu-Blanc, a business analyst with the Egg Industry Center at Iowa State University, says Iowa is the No. 1 state in egg production, with 47 million layer chickens in the state, which is 14.5% of the entire U.S. flock. The 2022 HPAI outbreak has caused the euthanization of 13.1 million laying chickens in Iowa as of April 20 — that's nearly 30% of the chickens in Iowa.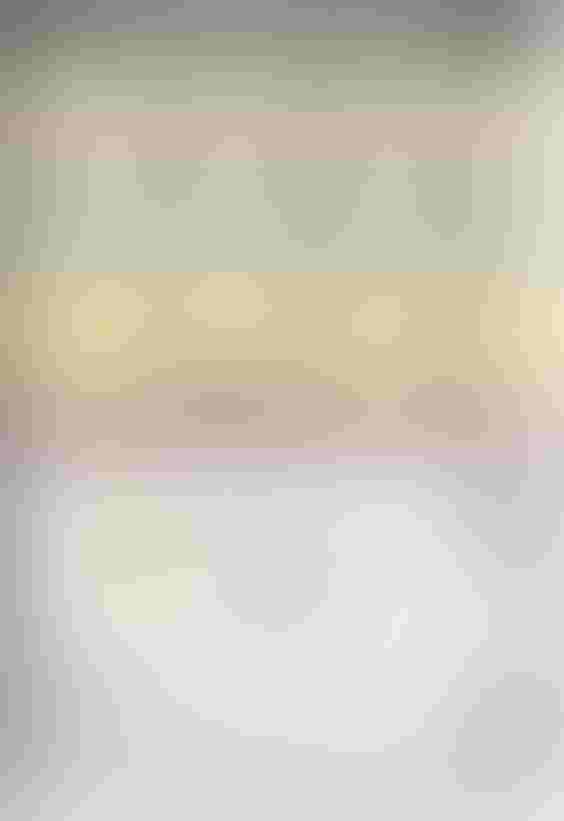 "Iowa is a natural location for the egg industry due to the lower cost of feed ingredients. Feed is the most important input cost for egg production, and Iowa has very competitive feed ingredient costs on corn and soybean meal," Ibarburu-Blanc says.
Large Iowa egg farms have been affected by the 2022 outbreak, but so far, not the number seen in 2015. Egg farms affected by HPAI will experience variable downtime due to differences related to the cleaning and disinfection process, according to Ibarburu-Blanc. Another factor which can affect rebuilding the flocks is the sources of attaining the replacement birds. Laying hens take time to mature, and if pullet flocks are also affected, restocking will take longer.
Beyond birds
Lee Schulz, Iowa State University Extension livestock economist, says the Iowa poultry industry generates considerable contributions to the economy through forward and backward linkages. "The backward linkages include purchased inputs, supplies and services used by poultry producers. The forward linkages include further value-added economic activities occurring beyond the farm gate, such as processing," he says.
The Iowa egg industry uses 57.8 million bushels of corn and more than 530,000 tons of soybean meal for feed each year, which includes the feed used for growing pullets, according to the Economic Importance of the Iowa Egg Industry executive summary prepared by Schulz and Ibarburu-Blanc at the end of 2019.
This summary also says, in addition to the value of Iowa's egg laying industry, that more than $1.333 billion in eggs was marketed in 2018. The industry generated over 7,000 total jobs in 2018. An Iowa Farm Bureau study showed the 2015 HPAI outbreak caused a loss of 8,500 jobs with the 34 million birds lost, thus showing not all jobs were recovered from that year.
"In addition to the lost revenue to egg and turkey producers, HPAI also has many other adverse consequences on economic activity up and downstream, such as lost business for feed suppliers, veterinarians, truck transportation, financial institutions and decreases in government tax revenues," Schulz says.
While the supply number impacted so far in 2022 is not near the 34 million birds affected in Iowa in 2015, Schulz says prices could be impacted more because of cost-push inflation, which occurs when production costs rise or supplies fall. "Either will boost prices as long as demand remains the same. Cost of production is somewhere between 40% and 50% higher in 2022 than it was in 2015," Schulz explains.
Cases started earlier
Hart says while the 2022 HPAI cases started earlier in the spring than in 2015, there is still reason to think we could see more impact and outbreaks while waiting on the migratory birds to continue north. "We hope producers have learned from the previous impact, by ramping up biosecurity — but we just will have to see how it plays out," he says.
"Thankfully, we have seen consumers continue to buy eggs, which is the best thing that can happen for the industry," Hart says. "We need to be proactive with consumers and be sure they recognize why there is a price change, and that they know the poultry and egg products are safe to eat."
The cases have seemed to slow down in Iowa as of mid-April. Hart says the timeline for restocking and recovery should be shorter than in 2015, when it took some facilities up to six months to restock. "We must also remember the mental and emotional affect this has had on the producers. Poultry and livestock may not be like pets, but our farmers still take pride in what they are producing — raising food for consumers," he adds.
"This impacts more than just the birds," Hart says.
Subscribe to receive top agriculture news
Be informed daily with these free e-newsletters
You May Also Like
---