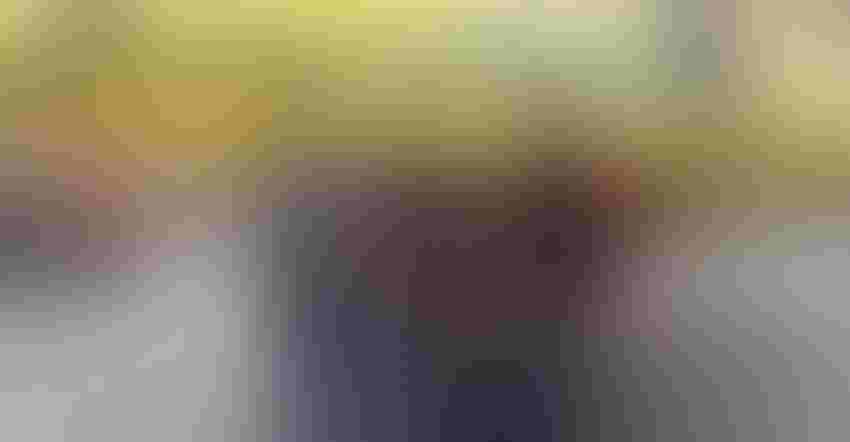 MEET THE CREW: Here are some of the people who keep the planes of Nick's Flying Service aloft — Chad Olds, office manager (left); Nick Yoder, owner and pilot; and Pat Fry, outside manager.
Darrell Boone
New York Yankees catcher Yogi Berra, who was as famous for his quirky quotes as for his Hall of Fame baseball career, once said, "I came to a fork in the road, and I took it." Nick Yoder, 39, owner of Nick's Flying Service, LaGrange, Ind., can relate.
"I grew up on a dairy farm, love agriculture, and had that option, but flying also really intrigued me," Yoder says. "As it turned out, I feel like I get to do both. I'm helping farmers produce their crops, which makes me feel like I'm just doing a different kind of farming."
After earning his pilot's rating at Vincennes University, Yoder found a mentor who got him started in ag flying. Then in 2009, he and wife Erica took a leap of faith and began their own ag flying business, with just one plane.
In the 10 years since, business has been good. Yoder's flying service now includes three planes and pilots, with plans to add a fourth soon. A friend also frequently helps with his own plane. During the past year, Nick's Flying Service spread fertilizer, fungicide and cover crops over more than 300,000 acres, primarily within a 100-mile radius of LaGrange in northeast Indiana, and also in northwest Ohio and southern Michigan.
To accomplish this mission, Yoder's small squadron of blue and yellow planes, or "air tractors," are manufactured specifically for ag flying by Air Tractor Inc., Olney, Texas. Like the name implies, the aircraft are designed specifically for the hard work of farming. Yoder's fleet includes various models, which range from 750 to 1,050 hp.
Depending on the type of seed being spread, payloads range from 2,300 pounds for annual ryegrass to 4,000 pounds for cereal rye and 4,200 pounds for wheat. A full load of fungicide would weigh over 5,000 pounds. 
And just like regular farming, equipment's not cheap, with the cost of a new plane running $1.2 million or more.
"In some respects, it's a lot like buying a new combine," Yoder says. "We have to cover a lot of acres to spread out that cost."
An adrenalin sort of guy
In an age where autosteer has become the norm on many regular farm tractors, Yoder's not ready to go there yet.
"We use GPS to help us fly-on whatever we're spreading, but autosteer wouldn't really translate well to ag flying," he says. "Besides, you can call me 'old school,' but I really enjoy the hands-on, stick-and-rudder, seat-of-your-pants flying. I'm an adrenalin kind of a guy anyway."
And while Yoder is the owner of the company, he easily prefers flying to the business aspects. He delegates the business chores to office manager Chad Olds and outside manager Pat Fry, while Erica handles the financial aspects.

ALL IN A DAY'S WORK: Working in close proximity to obstacles goes with the territory for an aerial applicator, Nick Yoder says.
To fly their payloads onto fields, Yoder says they use GPS combined with a lightbar. After fields have been mapped, that information is uploaded to a USB file, which the pilots use — after double checking — before they start a field.
Once they begin, pilots tell the GPS how wide a swath to apply, usually 75 to 80 feet, depending on the type of seed or substance being delivered. The GPS then records the plane's activity by "painting" a green line on the screen, showing what's been covered, including any misses or skips. The pilots typically perform their mission at speeds of 145 to 150 miles per hour.
'It's fun, but …'
Yoder's flying season starts about mid-May, flying on dry fertilizer or urea on wheat; it shifts to fungicide in the summer and then to cover crops in the fall, continuing into mid- to late October. Yoder says for him and his crew, the season is one of very long days and short nights. Twenty-hour days aren't unusual.
"It really is fun, but flying from dawn till dark for 14 to 16 days without a day off isn't that great," Yoder says. "But if we have a windy period where we can get a week or so off, then it's fun again."
Watching ag pilots performing their missions is like watching an air show. Planes speed across the field, spreading their cargo, then do a high-banked turn and make another pass.
"It looks like we're making really hard turns, pulling a bunch of G's, but we're actually not," Yoder says. "What we're doing is inherently dangerous — obstacles in the field, like electric towers or trees, don't move — but you can make it more dangerous, if you choose. You can pull a bunch of G's if you want to, but you'd wear yourself out and wouldn't last till noon. On the other hand, after you've done this for a while, it's almost like driving a car down the road."
With all the long days and short nights, combined with the monotony, do pilots ever risk dozing off?
"That can become an issue, but pilots have the right to stop and take a nap, if they're starting to get sleepy," Yoder says. "We do that a lot, especially if it's windy."
Boone writes from Wabash, Ind.
Subscribe to receive top agriculture news
Be informed daily with these free e-newsletters
You May Also Like
---