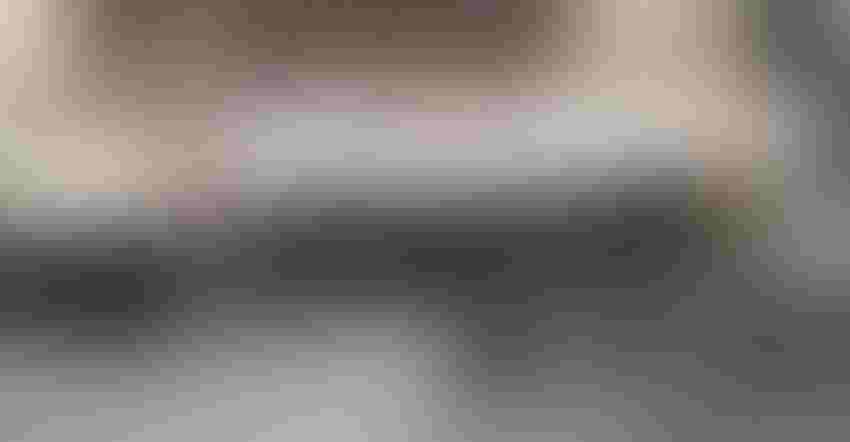 GETTING CHECKS: During Commodity Classic, six innovators were honored for their work in new biobased technologies that could enhance corn demand. Each received a check for $25,000.
There's a challenge out there for any commodity crop — creating demand. For corn growers, the ongoing work of the National Corn Growers Association, along with state associations, has been to look at new ways to put corn to use.
One promising area is in the world of renewable products. It turns out that corn has a wide potential in the chemical world in replacing petroleum-based stocks; but creating that market, and new demand, is no easy task.
To help with the process, NCGA and the state associations put their money where their mouth is with the Consider Corn Challenge — an open-invitation contest that would award cash prizes to the most promising new technologies presented. The organization ended up getting more than 30 submissions from scientists and startup companies.
Jim Bauman, who heads up NCGA's work in market development, explained during a presentation of the final awards in this new challenge that "corn has a price difference based on how much is left over, and that's for incremental growth from ethanol, animal feed and food production." The "leftovers" are what interested the entrants to this program.
Bauman pointed out that as a feedstock for new uses, corn offers some key features — the supply is reliable; there's an abundant supply; and in many cases, corn is price-competitive to alternatives. "Even in drought years, we have extra corn that's produced," Bauman added.
When conceived, the Consider Corn Challenge was aimed at potentially finding three new uses that could boost incremental bushel use by 25 million each. "With this contest I think we can get there, since each one of the submissions recognized would greatly exceed the 75-million-bushel target on their own," Bauman said.
Biobased honorees
Announced during Commodity Classic, here's a rundown of the six honorees in this first-ever Consider Corn Challenge. In each case, the honoree offers added bushels of consumption, but also provides environmental benefits through use of corn in place of other petroleum-based products.
Lygos. This Berkeley, Calif., company is producing bio-malonic acid, which can replace traditional malonic acid that is used in a range of markets — including high-tech composites and coatings, electronics, flavors and fragrances, and pharmaceuticals. The traditional product is produced in China using petroleum and a process that relies on hazardous chemicals. The bio-malonic acid would use nontoxic chemicals, creating an environmentally friendly product that can be made in the U.S.
Annikki. This is an Austrian company with a Finnish name that has offices in Chicago. The company has a process for producing FDCA — furandicarboxylic acid. FDCA is a replacement for petroleum-derived terephthalic acid, which used in plastic bottles, fibers and nylons. FDCA is a bioadvantaged molecule with the potential to replace 100 million tons of petrochemicals. It is 100% renewable, it and allows plastic bottles to be lighter and use less energy during manufacture. Annikki officials say that there's already a major maker of plastic bottles that wants to get FDCA; the challenge for the company is to ramp up production of the new product.
Iowa Corn Promotion Board. Using technology developed by Iowa corn farmers, this organization can produce monoethylene glycol (MEG) from corn. This product has a range of uses, from coolants and heat transfer fluid to packaging material. Many groups are looking to reduce their environmental footprint, and this new product may be the answer. Millions of tons are produced annually, with a value estimated at more than $25 billion.
Vertimass. This Irvine, Calif., startup is working to produce aromatic chemicals using renewable ethanol to replace petrochemicals. The organization is targeting large markets. The potential here is to diversify opportunities for existing ethanol plants to provide more uses for the ethanol produced.
Sasya. This Maple Grove, Minn., firm is producing methylmalonic acid from corn. This product can compete with methyl methacrylate, a petroleum-based product used in making acrylic glass and adhesives. This market is estimated at more than 5 million metric tons and is worth more than $7 billion.
South Dakota State University. The university, based in Brookings, S.D., is working on using renewable precursors, such as glycerol and lactic acid. The renewable precursors can be used to make unsaturated polyester resins, which are used to make large plastic tanks, as a binder in fiberglass sheets and in other reinforced plastics.
Moving forward
Each organization received a check for $25,000 as an honoree in this new program. It's money that will go to help support continued work on these new products. And there are some synergies, too. For example, the MEG produced by the Iowa Corn Promotion Board Process could be combined or included in products with the FDCA from Annikki in bottle production. This complementary approach offers added potential for use in plastic bottles.
The renewables industry continues to grow and is creating billions in revenue. Yet, the market is largely untapped. In a release announcing the winners, Bruce Peterson, chairman, NCGA Feed Food and Industrial Action Team, noted that NCGA recognizing these companies offers potential for growing markets in the future. "Continued improvements in sustainable corn production underscore corn's ability to significantly improve the environmental footprint of many common household products."
Seed companies have committed to reach an average corn yield target of 300 bushels per acre by 2030, on the road to helping feed 9 billion by 2050. That growing volume of corn at a time when demand is soft is challenging the market. There are also other concerns, as farmers find demand for ethanol can only do so much to eat into the pile of corn produced annually.
As one award winner commented during the ceremony: "None of these technologies has a blend wall." Pushing new uses to drive new demand remains important for corn producers.
About the Author(s)
Subscribe to receive top agriculture news
Be informed daily with these free e-newsletters
You May Also Like
---