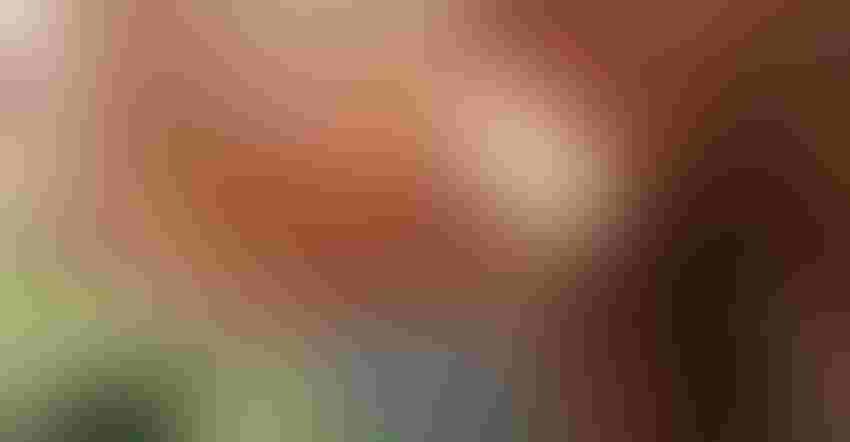 PLACE IMPLANT OR NOT: Even though she believes it's perfectly safe, Cindy Overdorf chooses not to implant hormone pellets in her calves' ears because her buyers don't want hormones to be used. (Photo courtesy of Cindy Overdorf)
Cindy Overdorf
Many beef producers use hormone implants in their cattle for efficiency and economic purposes, and many people fear that the added hormones in beef can have negative effects on consumers.
Experts say most people in the U.S. don't have firsthand knowledge of agricultural practices and products, so naturally there are questions. But consumers need to make sure their sources are reliable, and that they approach all sides with open minds. Beef producers should have the opportunity to be heard, as they are the people who are closest to the heart of these concerns and truly know the reasons and results of these agricultural practices.
Here is a look at various sides of this issue through the eyes of people involved and affected by it.
How do implants work?
The Iowa Beef Center at Iowa State University published a Q&A called "Understanding Hormone Use in Beef Cattle" to give others a chance to learn more about hormone implants. The authors describe the practice as placing small pellets of growth-promoting hormones under the animal's ear. The pellets then dissolve over a 100- to120-day period. The active ingredients in these pellets are either estrogens or androgens, and are mostly naturally occurring hormones, according to the ISU authors. 
Implants change what happens to the nutrients that beef cattle consume by enhancing muscle growth and diminishing fat deposition, lowering the amount of feed needed for each animal. 
Randy Bush, Flora, has been a practicing veterinarian for 31 years, having worked in Illinois, southeast Oregon and Indiana. He is now the owner of Bush Veterinary Services, where he specifically cares for food animals. 
Bush frequently administers hormone implants to beef cattle and has done so for years, mostly for feedlot cattle. He explains that the pellets are implanted subcutaneously in the back of the animal's ear because the ear is an inedible product. Bush says the main reason for the use of implants is for efficiency. They increase the rate of pounds gained per pound of feed consumed. This saves beef producers money by increasing rate of gain and lowering the amount of feed needed for finishing cattle.
Scientists explain risks
The main reason implants are so controversial for consumers is due to health concerns in humans, experts say. These implants have been thoroughly researched and are approved by the Food and Drug Administration. FDA's website states that the use of steroid hormone drugs in beef cattle has been approved since the 1950s. 
Approved growth hormones don't have a withdrawal period like some drugs do, meaning the final product is safe for human consumption at any time after the animal has been administered the implants.
Ron Lemenager, Purdue University Extension beef specialist, says there is only a very slight increase in excess estrogen, progesterone and testosterone in the meat of treated animals. It's insignificant compared to what humans produce naturally, "like a blade of grass in a football stadium," the specialist says.
Lemenager teaches students about the safety of hormone use in beef cattle. He has raised beef cattle since he was a child, and currently owns a Maine and Maintainer herd with his two sons. Lemenager uses hormone implants in his cattle, and stands firmly by their purpose and safety. "I have no problem feeding [implant-] treated beef to my children or grandchildren," he says.
It's a very common practice, and it "economically makes sense" with the increase in muscle expression and lower demand for feed, he adds. Lemenager says the hormones allow producers to create a leaner product for the consumer, and using them is actually environmentally more sustainable. That's because of the greater amount of grain available for other uses, and the shrinking of the carbon footprint associated with cattle production, he observes.
FDA's page "Steroid Hormone Implants Used for Growth in Food-Producing Animals" states: "People are not at risk from eating food from animals treated with these drugs because the amount of additional hormone following drug treatment is very small compared with the amount of natural hormones that are normally found in the meat of untreated animals, and that are naturally produced in the human body."
Consumer preferences are important
Due to client concerns and desires, many beef producers choose not to administer hormones to their livestock. Cindy Overdorf owns a registered Hereford cow-calf operation with genetic emphasis on maternal and production purposes. She has worked for multiple veterinarians in Indiana, and is currently employed by Jerry Flanders, a veterinarian who operates VIP Animal Care in Noblesville. 
Overdorf doesn't use implants in her cattle because she generally keeps calves for about 30 days after weaning, and she believes implants should be administered closer to finishing. As for the few cattle she sells for freezer beef, she chooses not to use implants because most consumers want "natural" or "organic" beef. 
However, she doesn't believe hormones have a negative effect on consumers, as she has yet to see any research showing harmful effects. Yet she chooses to adhere to the desires of her clients.
There is an obvious increase in the number of consumers who want "natural" food products, experts say. It's shown through the choices of producers. Brian Shuter, Frankton, works full time on his family farm raising Red Polled cattle. He previously worked for the Indiana Beef Cattle Association. Along with his father and brother, he has chosen to not use implants.  
"We realize that we are giving up a 10-to-1 return on a potential investment and would like to utilize any available technology to improve our operation," he begins. "However, many of our customers ask and have told us that they would rather we didn't, so we have tried to listen to our customers." 
So what?
People like Lemenager, Shuter and others realize that what consumers put in their bodies is a personal decision, and food production is driven by consumer preference. Everyone is entitled to their own opinion, and U.S. citizens are lucky to have so many options to choose from. 
The key is to gather information from sources from all sides and make an educated decision, experts say. Bush says when he has encounters with people who have issues with hormone use, he uses it as an opportunity to educate consumers about the process. 
Shuter says, "The negative effects that consumers perceive about the use of technologies such as growth promotants is largely due to misinformation that they can find at their fingertips today on the internet."
Even Weight Watchers has touched on the subject in an article titled "Growth Hormones in Beef and Milk." Authors explain the controversy, and demonstrate the importance of fully researching all sides of an issue by giving evidence of safety and following up with sources for "hormone-free" options. 
Consumer decisions drive the economy, experts agree. So consumers should try their best to be open to new information and then make the best personal decision based on the evidence.
Young is a senior in ag communication at Purdue University. 
Subscribe to receive top agriculture news
Be informed daily with these free e-newsletters
You May Also Like
---