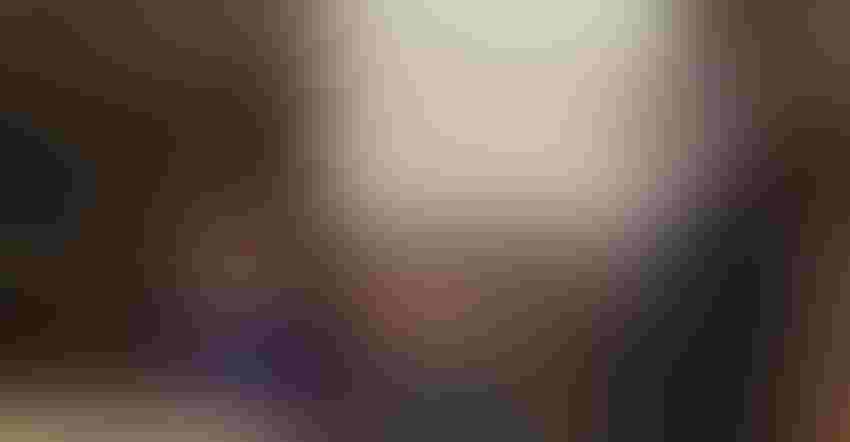 Iowa farmer Chris Petersen was one of several speakers on a panel speaking about factory farming. The meeting was held in early February in Rochester. Joining Petersen on the panel were, from left, Sonja Trom Eayrs, Colleen Carpenter and Jeff Johnson.
Janet Kubat Willette
Is it intensive production or a factory farm? Is it a gestation crate or individual maternity pen? Is it extreme confinement or high-density stocking?
The words used to describe agriculture and animal husbandry were among the topics discussed at a meeting entitled "Factory Farming in Minnesota: A Time for Change" held Feb. 4 at Assisi Heights Spirituality Center in Rochester. Around 70 people attended the event.
Colleen Carpenter, a theology instructor at St. Catherine University, said some may think it unusual to link agriculture and spirituality, yet what people eat and touch is part of theology and reflection.
In summer 2015, Pope Francis released his Encyclical Letter on family farming, Laudato Si'. Carpenter highlighted three passages from the 120-page Encyclical.
"Living our vocation to be protectors of God's handiwork is essential to a life of virtue; it is not an optional or a secondary aspect of our Christian experience."

"Our immense technological development has not been accompanied by a development in human responsibility, values and conscience."

We are called to a profound interior conversion. "It also entails a loving awareness that we are not disconnected from the rest of creatures, but joined in a splendid universal communion."
The theme, Carpenter said, is everything is connected as each creature reflects something of God.
Two farmers spoke to that, which each speaking passionately about the way they raise livestock.
Chris Petersen, a farmer from Iowa, said he respects his animals and wants them to have a quality of life. It breaks his heart to see baby pigs born into manure. He used farrowing crates when he started farming and as he progressed with the use of technology, he became more uncomfortable with it. He prefers to farrow his hogs in clean straw with heat lamps and access to the outdoors. He said he's sold on the system of working with nature to raise hogs.
"Nature is key, it will bite you if you don't work with it," he said. "We are proud of the way we do things and how we treat our animals."
"We love what we do," said a farmer from the audience, who said her family also respects their animals, even though they use a different production system. She said her family loves to share their farm and takes pride in providing good food for many people.
Jeff Johnson, a philosophy instructor at St. Catherine University, told the audience to listen and hear what the farmers said, while remembering that agriculture is an industry with a vested interest in getting the public to support their product.
An audience member asked if modern production agriculture methods are so good, why are there ag gag laws. Another questioned the "propaganda" of the Minnesota State Fair's Miracle of Birth Center and the similar center at the Olmsted County Fair, saying she wouldn't want to give birth before an audience and bed of cameras.
Sonja Trom Eayrs, a lawyer who grew up in Dodge County, said it's the responsibility of consumers to find out how the products they consume are produced. She challenged farmers to find out what consumers want them to produce. Twenty years ago, famers were told to get big or get out, she said, and many good farmers were lost. The CAFO business model is no longer working, she said, as the consumer wants animals raised sustainably, humanely and without impacting the environment.
"Rural citizens are awakening to the fact they've been stepped on by corporate interests," said Trom Eayrs, who with her family and other citizens formed Dodge County Concerned Citizens. Her family has an appeal pending at the Minnesota Court of Appeals regarding Dodge County's issuance of a Conditional Use Permit for a feedlot adjacent to her family's Westfield Township property. They've been joined in the suit by the Center for a Livable Future at Johns Hopkins University, the Humane Society of the United States, the Animal Legal Defense Fund, the Minnesota Center for Environmental Advocacy, Environment Minnesota and Food and Water Watch.
Carpenter said we all believe we are doing what's right and we're good at ignoring the sin we are part of. She challenged everyone to listen to people of diverse opinions, as listening and questioning our own motives will help discern what is right.
"Spirituality is work," Carpenter said. "It is listening, it's paying attention, even to people who don't agree with you."
Subscribe to receive top agriculture news
Be informed daily with these free e-newsletters
You May Also Like
---