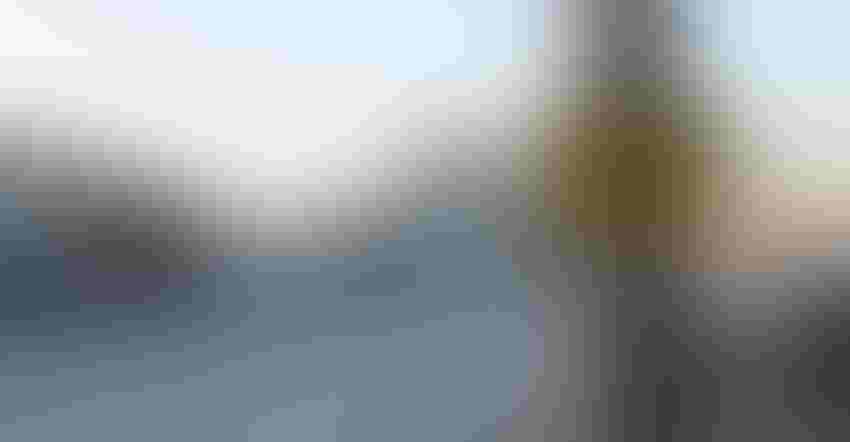 STOP RIGHT THERE: Biosecurity starts at the farm gate, if not before. The health of your herd and of the entire hog industry relies on a strict biosecurity plan.
Courtesy of National Pork Board
Routine can lead to monotony. Monotony can lead to slacking. Slacking can lead to lapses in judgment.
Such a progression, or digression as the case may be, can lead to mistakes. On farms and ranches, we know how a brief lapse of judgment can prove dangerous, especially during the high-pressure, time-sensitive periods of planting and harvesting.
For hog farmers, there can't be lapses in judgment when it comes to biosecurity. Ever. And it doesn't matter what production phase is under your roof.
Program for all pork stages
Biosecurity in the breeding herd is vital, as it is the basis the entire industry is built upon. However, that does not mean biosecurity can be ignored in other phases of production.
The Swine Health Information Center, the Foundation for Food and Agriculture Research, and the Pork Checkoff are collaborating to fund a Wean-to-Harvest Biosecurity Program that will be implemented over the next two years.
According to a SHIC press release, aggregate data from its Swine Disease Monitoring Report show breeding herd breaks of porcine reproductive and respiratory syndrome and porcine epidemic diarrhea tend to follow breaks in wean-to-harvest sites.
Another SHIC-funded published paper detailed how PRRS and PED-negative pigs placed on wean-to-finish sites become infected after placement. SHIC's Rapid Response Team investigated an Actinobacillus pleuropneumoniae outbreak in the Midwest and exposed deficiencies of wean-to-harvest biosecurity in the area that contributed to the disease spread.
Farm-level biosecurity plan
Back on the farm, your entire team needs to be on the same page of the biosecurity handbook. Here are a few tips to help work through the process:
Train employees. This applies to both new employees and existing farmhands. Expressing the importance of biosecurity to the entire team is key to ensuring everyone carries out the plan.
Make frequent reminders. Weekly team meetings can be a good opportunity to stress a specific biosecurity measure. Make it a regular part of discussion. This regular reference to such measures will present the eternal importance.
Share concerns. Consider implementing the mantra from TSA in airports: "If you see something, say something." Reporting a biosecurity breach is not snitching on a co-worker. It's for the greater good of the barn's herd health, and quite possibly the health of pigs and hogs in a greater geographic area.
Report breaches in a timely fashion. Report a biosecurity breach immediately, rather than waiting until the next team meeting to report it. Time is critically valuable when dealing with biosecurity and the potential spread of pathogens.
Communicate openly. If a pathogen sneaks its way in, work to keep it from spreading to other barns within the system or to neighboring operations. While communication within your own team is important to maintain your herd's health, it is equally critical to communicate with neighboring hog producers should a disease break occur.
Maintaining a healthy herd and hog industry is important on so many different levels, and communication is key at each of those levels. Keep talking and working toward sound biosecurity plans, so that they are simply routine. Just be careful that the routine doesn't turn into slacking.
Safeguard transportation sector
Hog transportation is a huge biosecurity issue, as there are an estimated 1 million hogs on the road every day in America.
The Swine Health Information Center established two task forces to develop researchable priorities for transport biosecurity and site bioexclusion and biocontainment.
Transportation between sites within a production system cannot be overlooked as a potential spread mode for pathogens. Also concerning is the transportation of market hogs from finishing barns to a harvest facility. On those return trips to the same finishing barn, or possibly to a different finishing barn, those trucks run the risk of bringing pathogens from the packing plant.
Controlling transportation biosecurity can be tough, but even more so when dealing with a third-party trucking company. In those cases, you need to clearly lay out the expectations that you have for hauling your hogs. If those expectations cannot be met by the trucking firm, it may be time to look elsewhere — even possibly investing in your own trucking.
Control what you can control.
Schulz, a Farm Progress senior staff writer, grew up on the family hog farm in southern Minnesota, before a career in ag journalism, including National Hog Farmer.
About the Author(s)
Subscribe to receive top agriculture news
Be informed daily with these free e-newsletters
You May Also Like
---