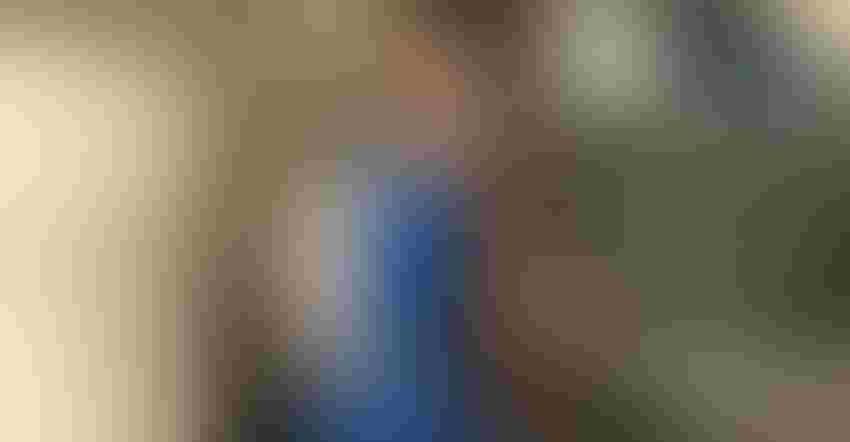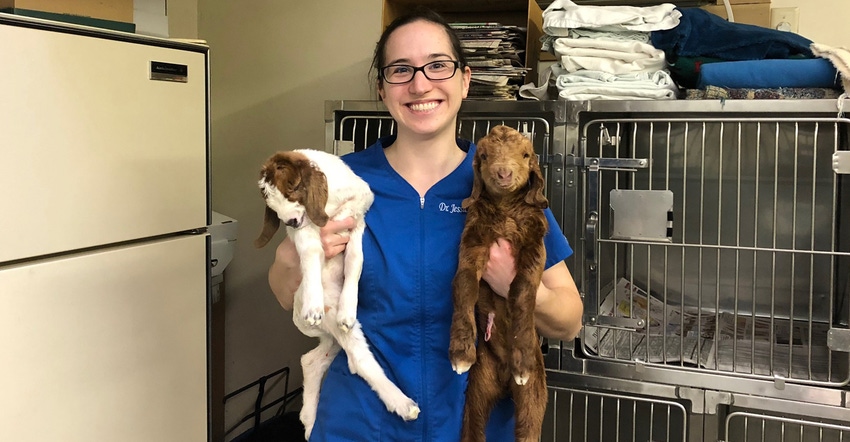 AGAINST THE GRAIN: Dr. Jessica Glomb works with small animals in the morning and large animals most afternoons. She enjoys the time she spends working with large animals.
Courtesy of Jessica Glomb
Brett Marsh, Indiana state veterinarian, points to a significant problem in rural Indiana and other states. "There is an enormous demand for large-animal veterinary services, and it's becoming more challenging to find veterinarians to make farm visits," he says.
"With diseases like African swine fever now in the Caribbean, this further complicates our ability to provide adequate surveillance for livestock populations on both large and small farms," Marsh adds.
National trends show that university veterinary programs are largely dominated by young women preparing for companion animal practices. However, one young woman veterinarian in Wabash, Ind., is finding the good life in a veterinary practice that includes large animals. 
"I really enjoy being in a mixed-animal practice," says Dr. Jessica Glomb, of Countryside Veterinary Hospital. "Being in the office in the morning, then switching to being out in the field in the afternoon keeps it interesting.
"I came into this practice looking forward to doing a lot of horse work, but I've also come to appreciate working with cows, pigs, goats and sheep," she says.
Glomb also enjoys calving, farrowing and other births. "It's fun, helping to bring new life into the world," she says.
Growing up in Battle Creek, Mich., Glomb graduated from Michigan State University. Despite no farm background, she settled into Indiana animal agriculture.
"When I was a kid, my mom would take us to the local zoo all the time, and I just fell in love with animals," she says. "I particularly liked the large ones — like the zebras and giraffes."
Tackling big challenges
Despite her diminutive size, Glomb isn't intimidated by her larger patients, including an encounter with an angry cow. She finds farm work different, but interesting. She frequently finds less-than-great facilities for confining and treating large animals, which forces her to become "a little creative" in how she administers treatments.
"A lot of it boils down to just 'thinking safety' — being aware of your surroundings, knowing where your exits are, keeping an eye on what the animal's doing and trying to figure out what he's thinking," she says. "I've also learned how quickly I can scale a fence if a mad cow is after me."
Glomb's enjoyment of the mixed-animal practice led her to a major vocational and life commitment. , After three years in the practice, she bought the practice from founder Dr. Steve Pilgrim. Two years later, she says she genuinely likes owning her own business.
"There are a lot of details I didn't realize, but that's just part of the job," she says. "But we had a really good staff here already, which helped tremendously."
Glomb says that her clients have become an important and integral part of her world. She likes the teaching part of her job. That includes instructing 4-H kids about care and handling of their animals and helping hobby farmers who have jumped into raising livestock, frequently without doing adequate homework.
"I genuinely like working with my clients, learning the back stories of how they got into livestock or hobby farming," she says. "I've met some very interesting human characters out there amongst the sheep, goats and cattle."
Boone writes from Wabash, Ind.
Subscribe to receive top agriculture news
Be informed daily with these free e-newsletters
You May Also Like
---