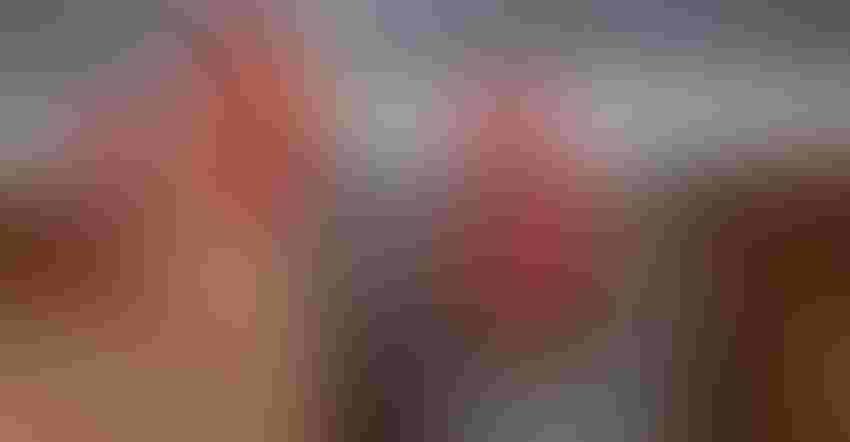 BIRD FLU: Avian influenza has been found in a flock of commercial layer chickens in Pennsylvania. The virus is very contagious and can cause serious disease and high mortality rates in domestic poultry such as chickens, quail, pheasants, guinea fowl and turkeys.
Nicolae Malancea/Getty Images
Pennsylvania has joined 27 other states in declaring its first case of highly pathogenic avian influenza, commonly known as "bird flu."
According to the Pennsylvania Department of Agriculture, a flock of commercial layer chickens in Lancaster County's East Donegal Township tested positive April 16 for HPAI, forcing a quarantine of the farm and all commercial poultry facilities within a 10-kilometer radius. The size of the flock has yet to be disclosed.
Pennsylvania's $7.1 billion poultry industry has been bracing for this threat since HPAI was detected in migrating wild birds in late March. It is the first confirmation of the virus in the state since a costly 1983-84 outbreak. 
Pennsylvania is one of the leaders in the U.S. in terms of poultry farming and egg production. It had 221 million broilers in 2020, according to USDA, and 6.7 million turkeys. Iowa, Ohio, Indiana, Pennsylvania and California are the top five egg-producing states in the U.S, accounting for 50% of the country's egg production.
Strict biosecurity protocols have been in place both for Pennsylvania farms and for poultry products shipping in and out of the state, Pennsylvania Agriculture Secretary Russell Redding said.
"We have had $2 million budgeted and set aside since 2016 to respond to avian influenza, in addition to equipment, supplies, laboratories and highly trained experts who have been on high alert and are supporting our poultry farmers," he said in a statement.
Avian influenza in birds is very contagious and can cause serious disease and high mortality rates in domestic poultry such as chickens, quail, pheasants, guinea fowl and turkeys. It is mainly spread through direct contact between healthy birds and bodily waste from infected birds — resulting in sudden death without clinical signs; lack of energy and appetite; decreased egg production; soft-shelled or misshapen eggs; swelling of the head, eyelids, comb, wattles and hocks; purple discoloration of the wattles, comb and legs; and nasal discharge, coughing, sneezing, lack of coordination and diarrhea.
HPAI does not present an immediate public health concern, according to USDA, and properly handled and cooked poultry products remain safe to consume.
"Anyone visiting a farm should be aware that your vehicles and shoes may carry the virus from other places you have walked," Redding said. "Clean them thoroughly, and stay away from poultry barns unless you have to be there."
A positive test requires total depopulation. The announcement was made at the same time as HPAI was found in a noncommercial backyard flock (non-poultry) in Utah County, Utah.
The disease continues to spread across the country. Delaware, with 250 million broilers, had three cases of HPAI, including a 1.1-million head commercial poultry operation, a 147,753-head commercial broiler operation and a 265,000-head commercial pullet farm.
Maryland, with 287 million broilers, has had four commercial, pullet and layer facilities test positive, involving more than 1.6 million birds.
Michigan, ranking third in the U.S. with more than 15 million laying hens, has had four backyard flocks test positive with 527 total birds.
Other Eastern states with mostly backyard flocks testing positive for bird flu include Maine, 13 flocks; New York, eight flocks; and one each in Connecticut, New Hampshire and Massachusetts.
USDA is required to report these findings to the World Organization for Animal Health, as well as international trading partners.
Pennsylvanians can assist with HPAI surveillance efforts by reporting any sick or dead wild birds to the game commission at 610-926-3136 or [email protected]. Any sick or dead domestic birds should be reported to the Pennsylvania Department of Agriculture at 717-772-2852.
All cases in commercial and backyard flocks are listed on the Animal and Plant Health Inspection Service website at aphis.usda.gov.
Additional information on biosecurity for backyard flocks can be found at healthybirds.aphis.usda.gov.
Subscribe to receive top agriculture news
Be informed daily with these free e-newsletters
You May Also Like
---