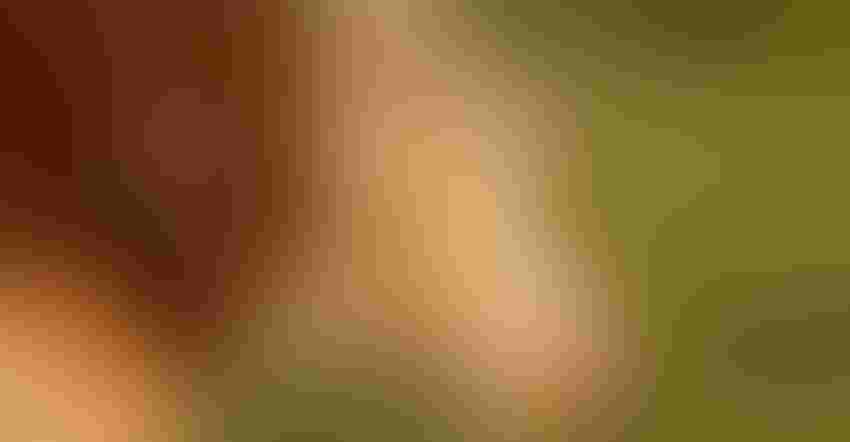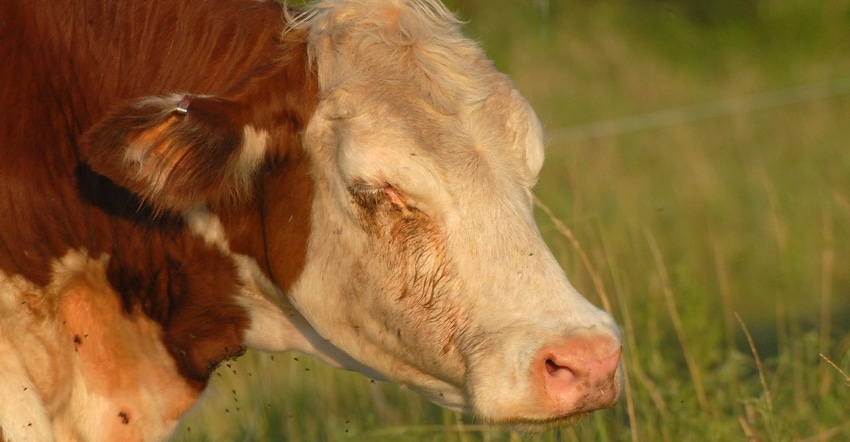 PINKEYE: Make sure you are taking steps to prevent pinkeye before your herd is faced with an outbreak.
Farm Progress
Pinkeye is one animal health concern you might forget about until it becomes a problem.
"If you're in the thick of pinkeye, you need to talk to your veterinarian and see what they best recommend for a treatment," says Travis Meteer, Extension educator at the University of Illinois. Meteer focuses on education pertaining to beef cattle and commercial agriculture. "If you're trying to prevent it or trying to prevent new cases, there are some things we can focus on from a management standpoint."
The first step for prevention is vaccination. 
Buzz Iliff, veterinarian at Wyoming Veterinary Services, explains there are good vaccines on the market; however, there are new strains of pinkeye that these vaccinations may not cover.
If you have an outbreak, your best approach is to get a swab of an infected eye before treatment, he says. Some companies can create an autogenous vaccine out of those cultures to combat the pinkeye strain that is in your herd. As a result, this should help build better immunity. 
Meteer and Iliff agree that vaccines are a good tool in the toolbox but offer a few more management practices that can make a difference in preventing pinkeye:
1. Minimize eye irritation. The biggest stressor of pinkeye is eye irritations such as sunlight, dust, grass, flies and anything that can brush up against cattle's eyes. Control what you can.
2. Manage pastures. This is as simple as making sure the grass is clipped down below eye level to avoid eye irritations. Also be sure to check the fescue in your pastures. Cattle that develop fescue toxicity have weakened immune systems and are more prone to pinkeye.
3. Get a grip on fly control. This is more than just putting in fly tags, applying pour-on and feeding products that manage flies. Consider the breeding ground of flies as well. Areas with standing water, old hay and large amounts of manure are going to result in more flies.
4. Optimize nutrition. Some cases of pinkeye can start from cattle not having their nutritional needs met. Poor nutrition leads to a lack of support toward their immune system. Meteer has seen that phenomenon in older calves that need more supplemental nutrition besides their mother's milk. Implementing a creep-feed program for calves and a mineral program for the whole herd can help improve nutrition and immune support.
5. Control other stressors. To reduce management stress on cattle, make sure to practice low-stress handling, minimize hauling and reduce heat stress within your herd.
"Prevention helps, but nothing is bulletproof," Iliff says.
If you find your herd being faced with an outbreak, make sure you call your veterinarian and follow proper treatment protocols that he or she advises.
"If you go through a bad year of pinkeye, it is a good idea to treat those cows with an antibiotic in the fall when you are preg-checking," Iliff recommends. "You will have cows in the herd that never get pinkeye but are the carriers. They will have the bacteria in their eyes, but they have enough immunity that they will not break down with it."
Subscribe to receive top agriculture news
Be informed daily with these free e-newsletters
You May Also Like
---